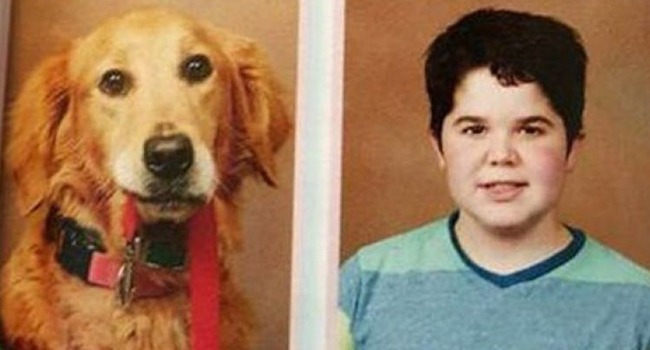 Middle school can be challenging on a multitude of levels, but at least where his Duchenne muscular dystrophy is concerned, seventh grader Joseph "Seph" Ware, 14, has a trusted friend to help him out.
Presley, a 5-year-old golden doodle, has been at Seph's side since she was a pup. And as the student body and school staff at Good Hope Middle School in West Monroe, La., have gotten used to seeing Presley every day, they thought it would be fitting to include her portrait along with the students' in the yearbook, per a piece in Al.com.
"He's loving it," Seph's mother, Lori Ware, told FoxNews.com, adding that her son has been drawing a paw print when classmates ask him to sign on Presley's behalf.
It took roughly 10 minutes to get the dog to look at the camera, Seph reported, and an undetermined number of shots to get the perfect one.
"We're kind of stunned at all the attention," his mom said. "It's humbling. I'm glad Presley is making the world happy."