Missing for over two months, Seymour was found recently running loose in Madera County – more than 1000 miles from home.
(Update: 9-25-11 – follow up below)
After he was was taken to the Madera County Animal Shelter a microchip scan left shelter workers baffled: his home in Texas was so far away that nobody knows how Seymour made his way north to California – or what he's been up to for the past two months. He was fairly well trashed – filthy and covered in burrs, but he's cleaned up nicely and is ready for the long journey home.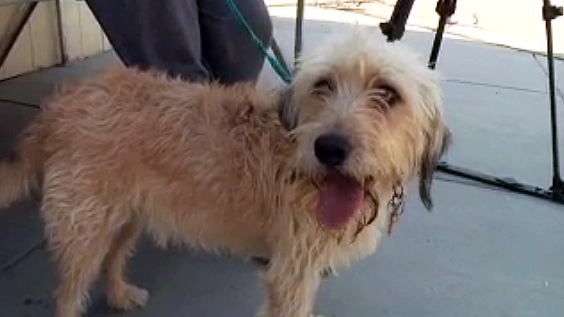 When he was contacted by the shelter, Infantry Specialist E4 Ryan Rivera said he was thrilled to hear that his lost companion had been found. "I really miss him. It hasn't been normal going back to my mom's house, walking to the front door and not having him meet me," said Rivera.
As if losing his dog were not stressful enough, Rivera says he does not have the funds to ship Seymour back home. The shelter is attempting to help raise funds, and we're sharing Seymour's story in an effort to ensure that the effort to bring Seymour home does not fall short.
"What we're trying to do now is raise funds to either fly Seymour home or make some other kind of arrangements because it's a thousand miles and the soldier wasn't able to come up with that," said a shelter employee.
If you would like to help Seymour make his way home to Rivera, please drop off donations at the Madera County Animal Shelter at 14269 Road 28, or mail your donations to: The Friends of the Madera Animal Shelter, P.O. Box 923, Madera, CA 93639.
Update: Seymour's journey ends exactly as we had hoped it would.