A St. Petersburg stray is being called a hero for helping to save a 17-year-old girl from an attempted sexual assault.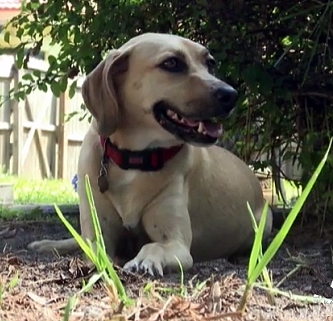 The teen was volunteering at the Friends of Strays animal shelter a few weeks ago and was walking Mabeline, a Rhodesian Ridgeback mix, when she was approached from behind, grabbed by the hair and pinned to the ground. Unnerved by the element of surprise, by the time she attempted to free herself it was too late: her attacker had a weight and strength advantage that made it impossible for her to move. She struggled to escape and called for help.
That help arrived in the form of Mabeline. Sensing the girl's distress, she approached the assailant with teeth barred, growling and barking. Despite her relatively small size, the big-hearted dog was threatening enough to make Michael Bacon, a registered sexual predator, turn tail and run. Pinellas County deputies would later identify and arrest him.
An unlikely hero, Mabeline is described as an "absolute sweetheart" and doesn't fit the description of a typical guard dog. That said, her heroic deed may have caused fate to smile upon her: shortly after her heroic act she was adopted.
Her new owner, Mary Callahan, had no idea that her new four-legged friend had come to the rescue of a young woman in need, and was more than impressed – she was proud.
"I looked at my dog and I thought you are a hero," Callahan explained.