Two-year-old mixed breed Fletch was sentenced to death by a dog warden for nipping a girl on the hand while taking a treat from her at the Knox County Animal Shelter.  But one sympathetic judge ordered that Fletch be placed with a foster, another threw out the case entirely, and he went home with the man who hoped to adopt him before the incident happened.
Fletch had spent several months living at the shelter, and last month when a young girl gave him a dog treat, he ever so slightly nipped her hand.  She wasn't injured, but he was given the 10-day quarantine, after which dog warden Jordan Barnard ordered he be euthanized.
In addition, commissioners suspended the volunteer program at the shelter while the case was open, citing the "volatility of the situation, false accusations and pending legal action."
Shelter volunteers and other friends immediately spoke out in support of Fletch.  The page Save Fletch was started on Facebook, garnering over 2,700 likes.  Volunteer Cody Jackson, who'd planned to adopt Fletch, filed a lawsuit against Barnard to stop the euthanasia.
On March 21, around 100 people (and one miniature pony) gathered outside of the Mount Vernon municipal building in Ohio to support the condemned dog.  Judge Paul Spurgeon ordered that Fletch be placed into a foster home, leading to an eruption of cheers.
Knox County prosecutor John Thatcher said Jackson's lawsuit had been filed in the wrong court, and needed to go from municipal court to common pleas court.  Being a dog owner, he did not "look forward to being put in this position."
The Tank Fund, a foundation that provides financial assistance to Knox County pet owners who are unable to afford life-saving veterinary care, stepped in, and the county was mandated to turn Fletch over to them.  Yesterday both sides reached an agreement, and Judge Otho Eyster declared the case to be dismissed with prejudice, meaning it could not be filed again.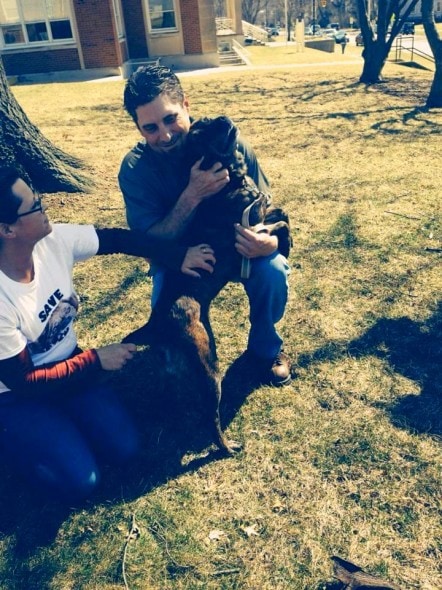 Following the hearing, Judge Eyster went into his chambers, and returned to place on a table a toy dog that danced to "Tequila."
"We don't normally put him on the furniture, but this is a special day," he said.
Fletch has been released into Jackson's care, who says he has no worries about having the dog live with his one- and seven-year-old daughters.  The eldest has been around Fletch numerous times, and "she's had no problems with him at all."
The Tank Fund wants to train Fletch to become a service or companion dog (which is part of the deal for his release).  Jackson plans to become a board member for the Tank Fund.  Outside of the courthouse, one of Fletch's supporters wished him well.
"Good luck to you," she said. "You've got the community behind you."