Usher is used to melting hearts with his moves and his music, but watching him love on a soft, sweet, cuddly dog is at least that adorable – and possibly more!
PEOPLE caught up with the 40-year-old singer recently and got the lowdown on his love for the pup he calls "his role dog." And lots of great footage of him giving her belly rubs and kisses.
He refers to Scarlett as so many of us do our own pets, as an unwavering source of love and support.
"Some of my hardest times, she is always there with me."
And although he notes that his sons, 10-year-old Usher V and Naivyd, 9, don't walk Scarlett (apparently celebrity parents aren't different than regular ones in this respect!), they have learned lessons of unconditional love for having her in their lives.
More about goldendoodles.
This "designer breed" has soared in popularity in recent years, but the goldendoodle first appeared in the 1960s – a cross between the poodle and the golden retriever (it is often called a "groodle" in Australia!) and the purpose of doing so was quite noble. The hope was to create suitable guide dogs for visually impaired people with allergies. Poodles do not shed and are therefore considered hypoallergenic.
Goldendoodles, however, are not predictably shed-free, though most do exhibit a low shed rate, and one MUCH lower than a purebred golden retriever. Over the years, they have been bred to three distinct sizes (standard, medium and miniature) and three coat types (straight, wavy and curly).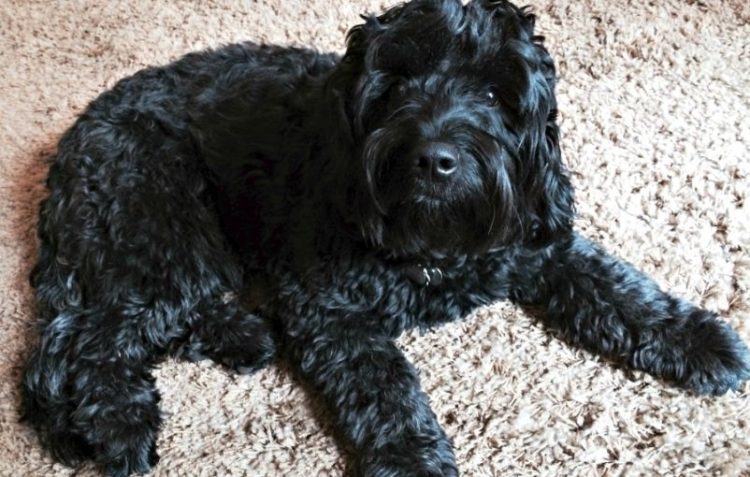 Goldendoodles are not recognized by any established breed association, but that hasn't done a thing to tamp enthusiasm for them and in fact, they have gone on to become successful as guide, agility, therapy, search and rescue ad diabetic detection dogs, as well as beloved family pets, for they tend to possess wonderful qualities from each of their breed origins — the poodle's intelligence and the retriever's trainability.
They tend to be friendly, patient and loving of both children and strangers — and that super-soft and cuddly coat certainly doesn't hurt!