A stray dog in Antofagasta, Chile, went through a rehab  program to stop being a menace to society and instead become a good canine citizen.
Dientes de Sable (best translation is Sharp Teeth) a German Shepherd mix, used to be a street dog. Wile free, he used to chase cars and "sharpen" his teeth on tires by biting down on them. As a stray, he would also rip license plates off of vehicles just for his own entertainment.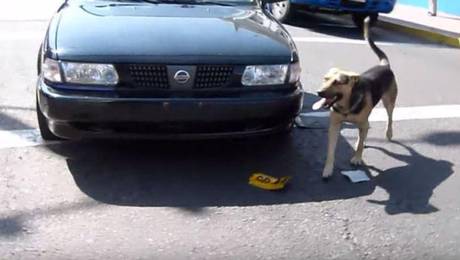 The community wanted to put an end to the dog's destructive behavior, but due to his strong will and aggressiveness, no one dared to approach him.
Local authorities stepped in to capture the dog and thanks to their rescue and rehabilitation program, Sharp Teeth is now a well-behaved member of society.
The rescue and rehabilitation program rescues strays and trains them to become working dogs. All rescue pets find loving homes where they are well taken car of and the majority of them go on to work as security dogs.
Sharp Teeth had a stubborn personality and required three years of training. After excelling at the program he was ready to move to his forever home and job, but due to his alpha personality the dog couldn't go to the average home and waited a while to find his dream home and job.
The former problem dog had plenty of adoption offers but he required a home with a large space to run free and exercise. Most local homes don't have large fenced-in yards, and Sharp Teeth needed a special home.
Today, Sharp Teeth works as part of the security team for the city's industrial association (AIA Asociación de Industriales de Antofagasta). In his new home, the dog lives at headquarters and is free to roam the fenced-in surroundings. The dog has the freedom and structure he requires, is happy, and performs very well his duties as guard dog.