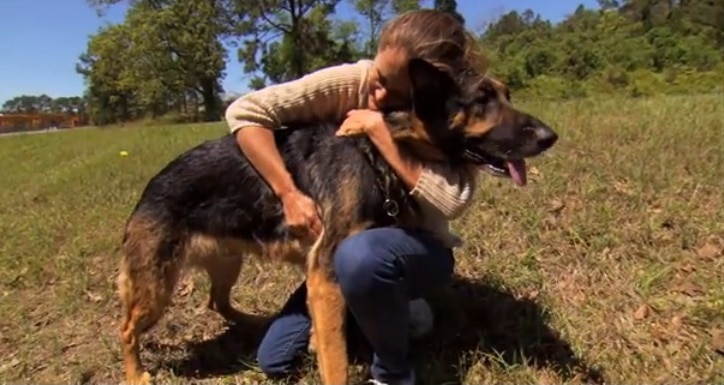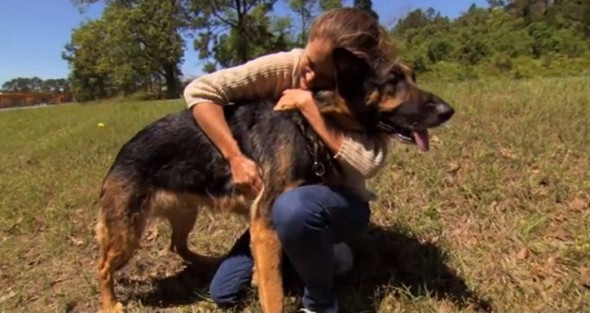 Shannon Lorio was in a terrible car accident that left her so far off the road that she likely would have gone unseen and died from her injuries. But a stray German shepherd saved her life by dragging her about 100 feet to the road, where she flagged down a driver and was able to be taken to a hospital.
Shannon had just gotten into a blowout with her husband, and went out for a drive on the back roads of southern Georgia to blow off some steam. Where she was driving is known to locals as "NASCAR road," because people take advantage of the curvy, low-traffic streets. She was speeding, and lost control of her car.
The car veered far off the road, too far for other drivers to see. Shannon was thrown from her seat; the top half of her body was on the trunk while her legs were in the back seat. She was confused, in pain and began fading in and out of consciousness.
During a conscious moment, Shannon felt the breath of a dog on her face. A stray German shepherd leaped up onto her vehicle and began cleaning the blood from her face. Shannon blacked out again, and the next time she came to, she was being pulled from the car.
The heroic dog pulled her all the way to the road, about 100 feet. Wrapping her arms around the sturdy dog's neck, Shannon was able to pull herself to her feet and motioned for the next passing car to stop. She told the driver she had wrecked her car, and asked if they could call her husband. She passed out then, and did not wake up again until she was in the hospital.
Shannon was told she had an intracranial hemorrhage, which left untreated, could kill enough brain cells to cause death. She was fortunate, and did not require surgery.
"This dog, he did everything. He's an amazing animal, he really is," Shannon said, with tears in her eyes. "I honestly believe, in my heart, that if he hadn't have… I probably wouldn't be here today. I really wouldn't. I think I honestly… I would have died. I really do. I'm glad I didn't."
The stray dog was taken in to the humane society, where he was appropriately named Hero. Canine search and rescue trainer Heidy Drawdy adopted him, and started putting Hero's skills to work. He trained for wilderness search and rescue.
"He saved my life without any training. And to think what he could do with the right amount of training, he could be saving many more lives," Shannon said. "I told him, 'you'll always be my hero.'"