On Monday Sept. 9, a stray dog was picked up from Parkside Boulevard near Dorr Street in Toledo, Ohio. The dog's face has swollen and deformed the dog's head due to an embedded collar that is preventing the dog's lymph nodes from draining. Rescuers worked with veterinarians to remove the collar and the save dog's life.
According to a wall post on Lucas County Dog Warden Facebook page,  "the embedded 'collar' was actually a coated wire tie out wrapped several times around and secured (by a human)."
The stray, a female, believed to be 5 or 6-years-old was taken to the Lucas County Dog Warden's Office and named Princess P. The cut on the canine's neck is very long and deep.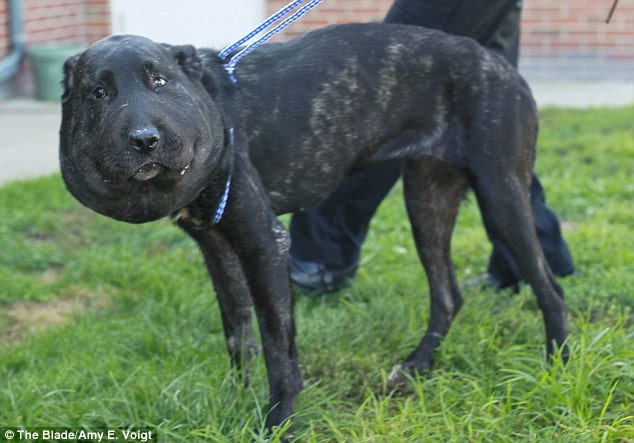 "We are consulting with Ohio State University (OSU) and have sent them photos of the wound," Dog Warden Julie Lyle told Toledo Blade on Friday. "We expect to hear back from them tomorrow on whether they can help her there or will just advise us on her care here in-house."
When Princess P. was picked up, many shelter workers didn't think the dog would make it through the night, but to their surprise the dog has survive this ordeal.
Right now Princess P's medical expenses are being covered by Cutie's Fund, but the Lucas County Dog Warden hopes a rescue organization will step up and take Princess P. in once her injuries are more manageable. It would be best for the canine to recover from her wounds in the comfort of a loving foster home.
If you would like to make a donation to help Princess P and other animals in need visit Cutie's Fund.