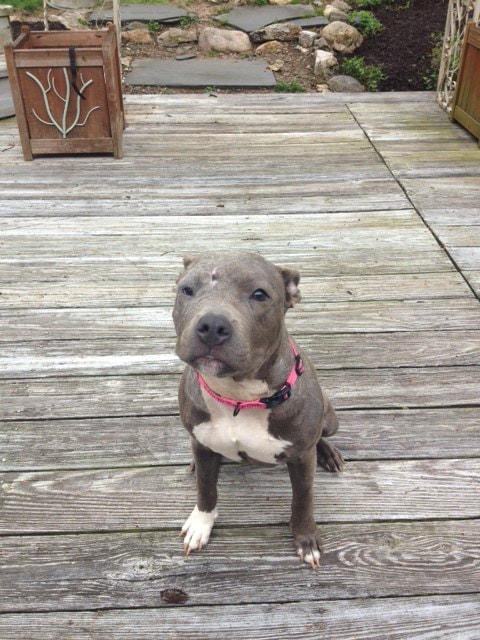 A bait dog dumped and left to die in Brooklyn is getting better and helping fund her recovery is a group of young students at the Stephen Gaynor School. On Thursday the young pit bull named Misty visited the students to say thank you.
Misty was found on a street in Brooklyn with serious injures all over her body and face. The injuries were mostly from bite wounds and indicated that she had been used as a bait dog for dog fighting. Luckily Misty was rescued from the streets and taken in by Second Chance Rescue.
When students at the Stephen Gaynor School heard about the puppy they wanted to help. They had been following her progress on her Facebook page and knew they wanted to do something. Through bake sales they were able to raise over $800 to help pay for Misty's recovery.
"We donate to a lot of dogs, but Misty was the victim of dog fighting which is a big problem in our city, around the country and around the world," said Dr. Kim Spanjol, a school counselor at Stephen Gaynor that works with students on humane-education programs.
The students aren't done helping animals like Misty and want to continue helping dogs like Misty. They have started a group called the Youth Animal Protectors Club.
"There aren't any bad dogs, there are bad owners," Spanjol said. "And that's a message that the kids feel really strongly about – that pit bulls are often victimized because of that image and it's really, really shameful and the kids want to do everything they can to show people that pit bulls are also sweet and loving dogs and Misty is a perfect example of that."
As a thank you for their efforts the students at the Stephen Gaynor School received a special visit from Misty on Thursday.
To follow Misty's progress and story go to her Facebook page.