The greying on the chocolate brown lab chin of my dog Huck has started, the stiff muscles after long runs are showing, the length of naps has increased, but one thing will never change – the look, the eyes, the glance. The soul.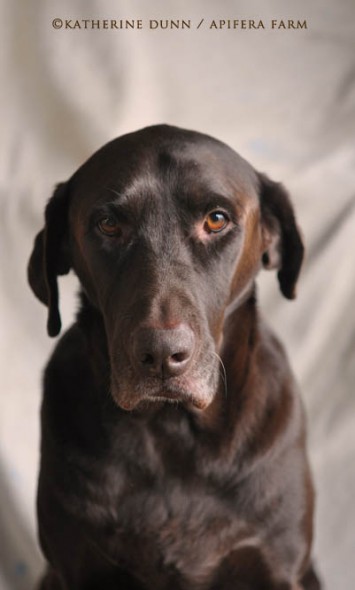 I do believe all creatures – and that includes animals, humans, trees, carrots and rocks – have soul. I was once told by an old boyfriend years and years ago of a very different spiritual system than me, that animals did not have souls. This one brief statement put me on a journey to discover concrete answers about the soul. I always thought anything natural had one,  but had never really researched or pondered facts to back it up. It actually was a blessing because it inspired exploring different philosophies allowing me to fully understand my own beliefs. And for myself, soul became more of a verb, an essence that we all have, that can shine even when we are damaged or hiding.
I came to believe that soul is bodiless but it takes up residence in eyes, hearts, voices, or the wind and rain.
I suppose a scientist would disagree with this next statement, but to look into the eyes of this creature, there is the evidence a dog has soul. For it's in his eyes – just look.
Huck doesn't get up each day and ponder his soul, nor does he have to work towards sharing it with the world.  It's just there in those eyes. When I look at him, I sense I am engulfed in love and acceptance, flaws and all.
Come to think of it, I think his soul is in his big, brown nose too.