Are you aware? Our seemingly ordinary front door  is a magic door, a door yielding access to a wonderful world of labbie activities. Amazing things happen beyond the magic door. Talley waits always by the magic door, for a chance to enter that world.  As a precocious youngster, I read the entire Chronicles of Narnia and  definitely relate to  Talley and her magic door.
As for the Pevensie children entering Narnia through the wardrobe , highly reinforcing activities happen beyond our magic door, in this case, chasing weeds and "helping" to dead head flowers. To Talley these are  jobs of magnificent proportions. Unfortunately the proportions of my zinnias are becoming slightly less; a certain labbie has become carried away, and is plucking off full blooms on the sly. I almost forgive her, given her cuteness factor.
What element of life does your dog consider magical? Consider that  dogs engage in no behaviors by mistake,  engaging solely  in behaviors that work for dogs. Given this, we are  limited only by our imagination or lack thereof,  in finding wonderfully engaging activities for our dogs.  We owe it to our pals to make their lives interesting fulfilling and yes, even magical.
Can`t we all benefit from a sense of wonder and magic in life? Providing for your furry friend as above makes perfect sense. Playing fun games  prevents boredom; the latter is often the root of destructive behaviors.  Bored dogs contrive their own activities, which seem excellent choices to them, from their doggy perspective:  not so excellent to human counterparts. Think counter surfing, paper shredding or trash excavating. Many dogs lead semi-deprived lives and just don`t have enough to do.
Going  into a behavior consult initial session, I play detective, inquiring about which appropriate dog-human play outlets are in place. Dogs leading the  most stultifying boring lives tend to misbehave more (according to human rules of conduct.)  Talley would agree that all canine cohorts need their own magic doors !  To Talley our activities are joyful blissful magic. To date I have not revealed to her that she is incorporated into my own days` activities. Following are some examples of typical labbie activities as I go about my day:
Play "catch the water" game with Talley while emptying the kiddy pool.
Play "retrieve the sunken toy" game from the pool with Bridgey (sit/down/stay cued before fetch)
Bridgey down/wait out of sight on front porch prior to "go find the toy" game while I water plants.
Doobie down/stay on porch while I watered and pluck dead blooms from hanging basket,  and perhaps a series of down/stays on the front lawn.
Group down/stays in living room five in a row upon coming back into the house.
While out walking with Talley,she loves to stop along grassy areas to play "catch the grass" game, after down cue and release.
 While I am picking up the yard, group labbie down/stays take place,  reinforced with play.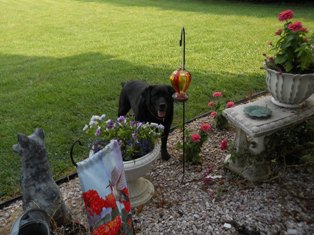 Play is necessary to dogs and humans alike; as you can see, I play many silly games with my dogs, but we have the time of our lives. And isn't that what it is all about, enhancing that dog-human bond? My chores get  done, and likewise the dogs get trained.
Does your dog have a magic door to a wonderfully exciting world of doggy activities? If not, make up  new games, play and have fun! You may wish to investigate books by, respectively Play With Your Dog: Pat Miller and Play Together Stay Together: Patricia McConnell.  Enhance your training by incorporating play.  Naturally Talley believes she is just playing, even if she is cued to down/wait before that weed comes flying her way. As Talley is  snoring and deep in slumber behind me in her corner "cave"  I believe we are done with the magic door for just now.  Go forth through the magic door, enjoy life with  dogs, explore, have fun.[divider]
Until next time, Leslie and the labbies, Bridget, Talley and Doobie. Next Friday I will explore American Lab Bridget's perspective on fun.
"your pet positively trained" Cecil County MD