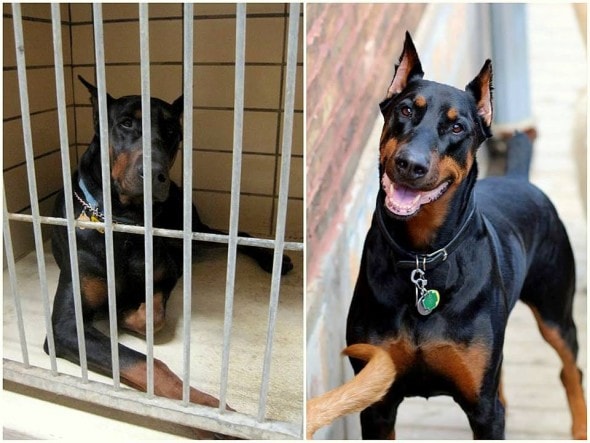 Miller is a therapy dog for rescue dogs.  When Trio Animal Foundation saves dogs from kill shelters and off the streets, they are sometimes very untrusting of humans because they have been hurt by humans in the past.  And sometimes they don't know how to behave around other dogs.  Thankfully, Antler, Hippo, Hazel Grace, and Miller are there to support them.
This comes from the staff at the Trio Animal Foundation in Chicago:
TODAY IS MILLER'S GOTCHA DAY!
Four years ago today, while walking through an open access shelter, I came across a stoic figure in a cage.
Admittedly, I was so depressed and it was hard to make it through the day. It was the one year anniversary of my Trio dying and I didn't even know what to do to ease the pain in my chest.
I promised that every day that week TAF would pull a dog(s) from an open access shelter. That Saturday was day seven and there was only one space left in our program.
As I walked down the aisles of kennels filled with dogs barking their plea for help, one quiet soul spoke out to me. When I knelt down by Miller's cage, he stared deeply into my eyes. He was quiet as could be and looked at me as if to say, "Where have you been?  I have been waiting for you."
In that calming moment, I felt that Miller had been sent by my Trio. I can't explain it but you know when you know. There was no doubt in my mind that Miller was supposed to be my dog.
Miller has gone on to watch over many of the rescue dogs that have come into TAF's program and, most importantly, our Hazel Grace. She is absolutely lost without him.
TAF would like to thank the Chicago Police officer who caught Miller and put him in the back of her squad car. He was not in a good neighborhood and people had called in to have him shot. Once offered a kind hand, Miller jumped right into the officer's squad car and the rest is history. The ripple effect of this officer's random act of kindness is immeasurable and Miller has gone on to pay it forward.