Noelani Guerrero is an addict:  she can't stop bringing home pit bulls.  And the cure isn't more cowbell – it's more pit bulls!  She and her boyfriend have five of their own, they've fostered dozens of dogs and puppies, and they don't plan to stop any time soon.
The dog mom's first pit bull was Indy, and at the time, she wasn't familiar with all the negative stereotypes of bully breeds.  According to an interview with Barkpost a couple of years ago, when they would go out, people would warn her that Indy might turn on her.  So she went online to connect with other pebble parents and swap positive stories.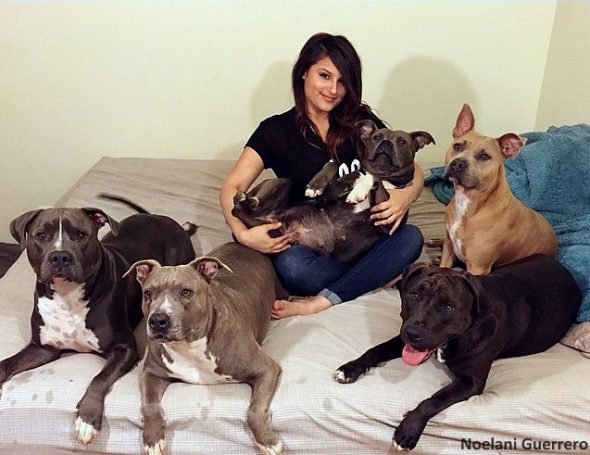 "Then I heard about Fresno Bully Rescue through one of the events we were having locally and I thought, this is perfect," she explained. "This is the perfect way to get involved. It kind of just took off from there.
She began fostering for the rescue group with the intention of helping to find homes for her charges, but a few of them so firmly embedded themselves in her heart that she adopted them.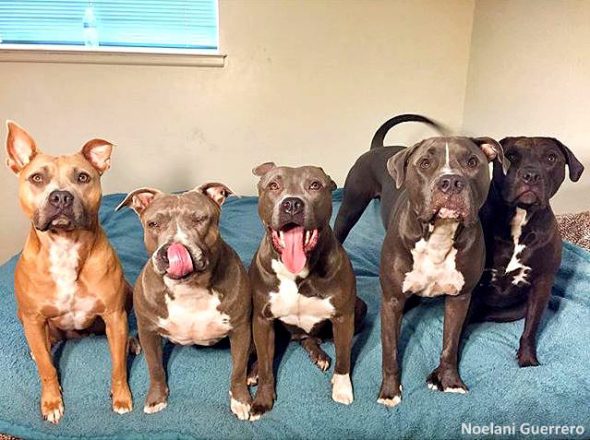 "I have Malachi, who I rescued as a puppy. I saw an ad on Craigslist that a lady had found him in a box on the side of the road and she was going to take him to a shelter but I was like, 'Oh, I'll come and pick him up.' I was going to foster him but I became a foster failure pretty quick.
"Then we have Mayby, another foster fail, actually. My friend called me and she had wandered into her friend's garage, so I picked her up. She also became a permanent resident.
"And then Nala, she was the only one that I basically went out and adopted myself without her coming to me. A friend was fostering her and she was having trouble finding her a home and I had been following her story for a while on Instagram. I kind of fell in love with her so we had her meet my pack and they all fell in love and got along so well that she became a part of the pack.
"Then we have Angel, who was my last foster fail. She's going to be my last foster fail for a while because we're kind of maxed out on forever dogs. She's the mama of the whole pack and I just recently adopted her a couple months ago. Those are all my babies."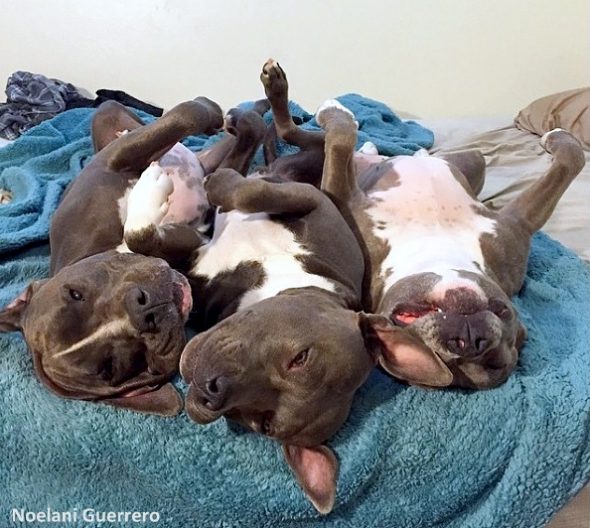 It's not just Noelani who's a foster, but Angel, too.  She helps new dogs feel right at home – especially the puppies.  They had brought in four Chihuahua puppies, and Angel took to them like a duck to water.
"It's really funny because I kind of had a feeling she would step up and treat them like they were her babies because she has that motherly nature to her. So when I brought them home, I kept them separate from the other dogs and I just let Angel come through. She just walked right past me right to them and they all just ran towards her and cuddled up against her. She was just like, 'Okay, well I will adopt you!'"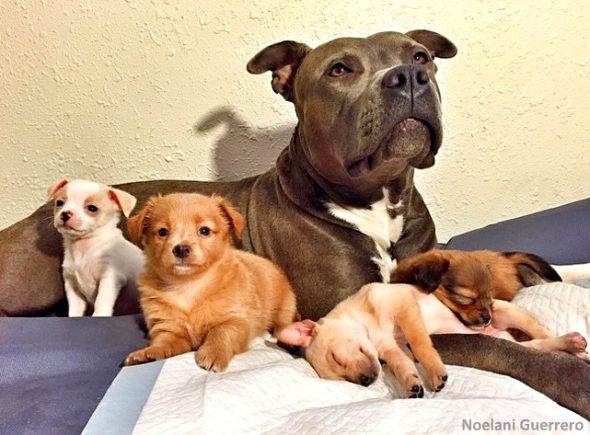 Though she loves helping dogs find forever homes, as any foster parent knows, it's not easy to say goodbye when the time comes.
"The hardest thing about fostering is probably just being able to say goodbye because you get attached to them, especially the medical cases or the cases where you can tell you are the first person who has ever shown them love before. It makes them very attached to you, too," she explained.  "But once you see them with their families, it's all worth it."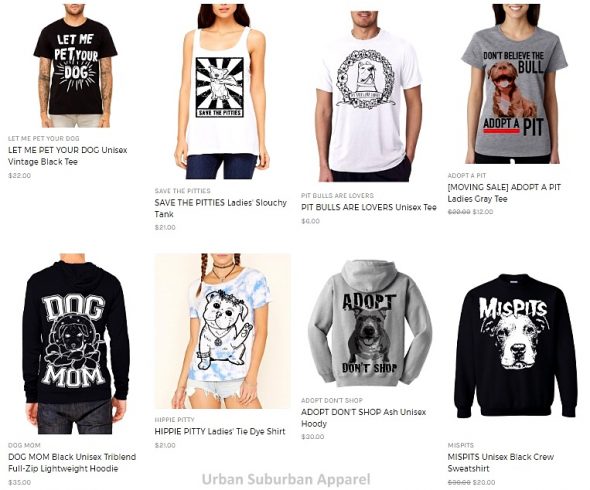 She even teamed up with Fresno Bully Rescue to launch a clothing line called Urban Suburban Apparel.  There are tons of pro-bully items, and the company employs teens to help keep them off the street.  Many of the shirts are only $6, and a portion of the proceeds benefit after school programs.
To see more of Noelani and her crew, check out her website, or follow her on Facebook, Instagram, and Twitter.  Pick up your Urban Suburban Apparel here.