Back in July, we brought you videos of Rosie, the kitten who thinks she's a husky.  The three-week-old was found on the street, unresponsive.  But she came to life after being mothered by Lilo, a husky.  Now she's fully grown, and is enjoying lots of adventures with the trio of huskies who have taken her in as part of their pack – hikes, beach trips… even paddleboarding!
When Rosie was found abandoned on the street in San Jose, California, she was "malnourished, lethargic, and dying."
"We took a chance and put her with Lilo, and Lilo really saved her life," Thoa Bui told ABC News. "Lilo never left Rosie's side for hours. She cuddled her and comforted her until she was better and ready to finally drink from a bottle."
Rosie tried to suckle on Lilo, and Lilo licked her bottom to stimulate her into eliminating.  After that, Rosie began looking to Lilo for guidance, and mimicked her behaviors.
"When she saw Lilo and the dogs went outside to potty, she started doing the same," Thoa said. "When they were leashed to go on walks, Rosie wanted to be leashed and to come along, too."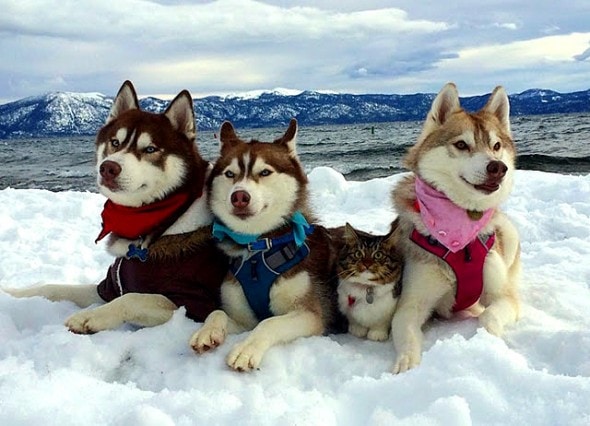 Thoa and her sisters, Thi and Tram, own Lilo and Infinity.  Their cousins, who live just down the street, have Miko.  Now the three are best friends with wee Rosie, and do everything they can together.
"Rosie is now a part of the pack," Thoa explained.  "Since Lilo is their leader, Infinity and Miko just accepted her, and now they're all good friends."
They've bonded so well that Rosie seems far more husky than cat.  She's practically fearless, and loves going hiking and being near the water.
"We go on a lot of road trips, and we recent took Rosie kayaking and paddle-boating with us.  She's not afraid at all, and as long as Lilo is there, she knows everything is going to be ok."
The family documents most of their excursions and posts them online.  You can follow along on their adventures on Instagram, YouTube, Facebook, and Twitter.