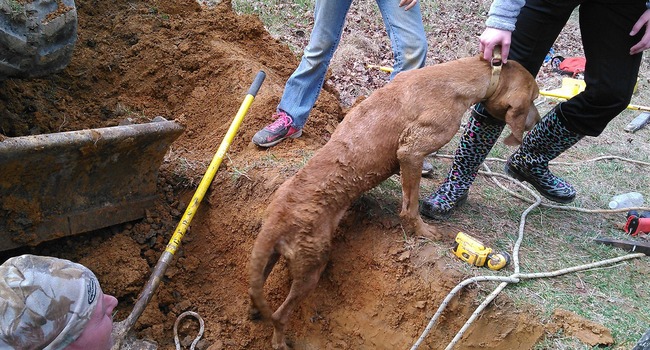 ————————————————————————————————————————————————————————————————————————————–
They say size isn't everything. And sometimes, it can actually be a handicap! Case in point: the rescue of Penny, the red tick coonhound who, true to her namesake had chased a raccoon into a Tennessee drain pipe this past Sunday — then couldn't get out.
Raccoon, 1. Penny, 0.
But before long, help was on the way.
Rescuers from the Greeneville Emergency and Rescue Squad came out to assist, but after hours of trying, reported the Greeneville Sun, they were at a loss. Until, that is, two children were called on to help the big people (and the dog) out of a jam.
Stacy Ricker, Penny's owner, along with Kevin "Bucky" Ayers, Paul Frutiger, Phillip Cutshaw and Phil Haffcke didn't have any luck, but thankfully, Ricker's fiancee, Casey Carter, had a pair of secret weapons in kids Doyle "Bubby" Carter, 12, and Kailee Carter, 9.
This diminutive pair were Penny's true saviors, in that they were small enough to crawl inside the pipe!
"We tried pushing the dog backwards and that didn't work. We tried to pull her out backwards," Ayers, captain of the mission, told the Sun. "Every time we would get the rope around her leg, it would slip off."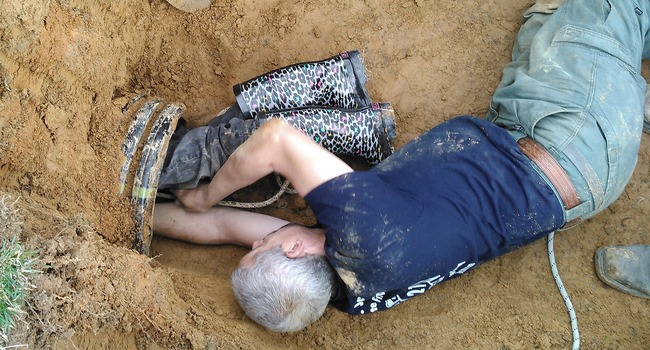 ————————————————————————————————————————————————————————————————————————————–
A mini excavator belonging to Penny's owner got them a little closer to the problem. Ayers said: "He got it and dug one section of the pipe out so we could get closer to the dog. I tried to crawl in, but I was too big."
Kailee successfully got the rope around the dog's waist when she crawled in the pipe, the paper said, but even then, Penny remained stuck. One more dig with the excavator and they managed to get her.
Penny "came out wiggling her tail," Carter told the Sun. "She drank about a half gallon of water and got a sausage biscuit when she got out."
Carter said Penny rested following the rescue, which, by all accounts, was a team effort. "I was amazed at the rescue squad and I'm proud of the kids. That's something they will remember for the rest of their lives," Carter said. "The kids were our only option, and they were all for it."
Great job, team!