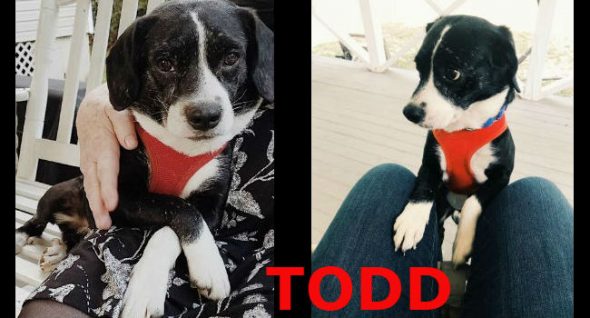 ————————————————————————————————————————————————————————————————————————————————————————–
Todd, 8, came to the Leon County Humane Society in Tallahassee, FL, along with seven other dogs from a multi-agency rescue. The dogs had been in a hoarding situation, with dozens of them living in filth. It was horrid. Deceased dogs were discovered in the home, as well.
Sadly, this situation had gone on undetected for years and many of the dogs had experienced little to no positive interaction with people during that time.
Todd is now safe in a foster home, where he is being provided the love, nutrition, and veterinary care that he had previously been denied. Dogs from situations such as these often require more time to find a loving adoptive home, but the folks at LCHS (not to mention Life With Dogs!) believe they are worth the effort.
Thanks to a grant from The Grey Muzzle Organization, his caretakers can give Todd everything he needs.
Todd, say those who know him, is very sweet and laid back. He adores sitting in laps and going on walks. He is shy at first, and warms up to women faster than men, but he seems to do pretty well with other small dogs and cats. He's house- and crate trained and weighs 13 pounds.
Like all Leon County Humane Society dogs, he is already neutered, up-to-date on vaccinations, microchipped, and has been tested and found to be free of heartworms. His adoption fee is $250 and LCHS is willing to adopt out of the area.
Check out his full profile here!