Actor Tom Hardy has no qualms about publicly proclaiming his love for dogs.  They've accompanied him to acting classes and film premieres, and his favorite roles are the ones that allow him to have a dog by his side.
Last year we shared Hardy's interview about his love for dogs and his part in The Drop, James Gandolfini's last role, which also starred an adorable, wiggly little pit bull named Zora.  He brought her to the film's premiere, which was just the beginning of what seems to be an awesome tradition.  He just recently brought his dog Woody to the premiere of his newest film, Legend.
But this should come as no surprise to fans.  In many of the interviews he participates in, he candidly speaks about what appears to be his favorite subject – dogs.
In a 2007 interview with Dogs Today, Hardy said:
"I wouldn't go to class unless Max was allowed in.  My old drama teacher said, 'I remember when you used to walk into class with your dog in one hand and a can of Coke in the other.' Max was my support unit, it's like I had a focus; I had an identity and higher self-esteem because something relied on me and loved me constantly. Then I felt important. I can't stand those kind that fight their dogs, but I wonder how many sleep with their dogs under the covers at night? I'm very, very lucky that people – from 17 to now – have always allowed me to have my dog around."
In an interview with Screen Crave in 2012, he commented:
"I don't have any friends. I don't keep them or entertain them for any of that kind of problem. So I like to keep myself. I have a dog and a son. A dog couldn't do anything to upset me, you know, and neither could my son."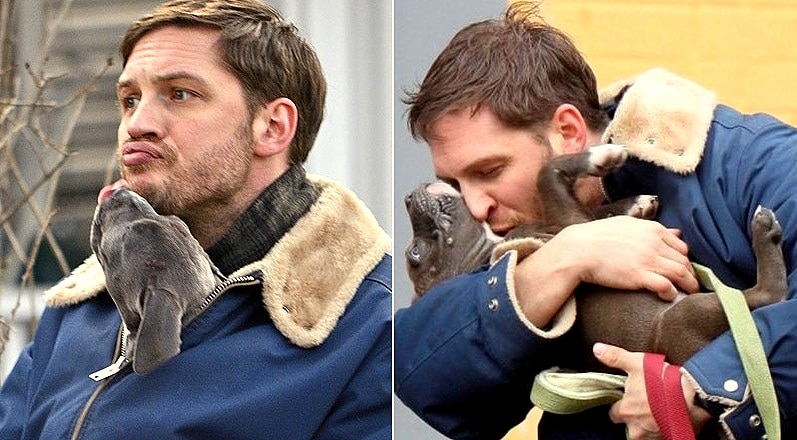 Here's a snippet of another interview of Hardy, this time from The Daily Beast:
The Internet is very fascinated by your dog obsession, I must say.
It's not an obsession! I love dogs. I really love them. They're always going to be around, doggies. They're special creatures. I love all animals, but I think dogs are just fantastic. Just fantastic.
I read an interview where you said, "Dog spelled backwards is God."  
[Laughs] Oh, did I say that? Well, that is true. But I do think there's a lot about a dog that we can learn from, and I do put the dog into a lot of my characters because a dog, if you watch them, they're so funny to watch. They speak with their eyes and their body, and I find that fascinating to observe. And another thing about the dog is you can 
never
 fool the dog into thinking that you're somebody else, so they're great bullshit monitors—especially for actors. So if you think you can transform, just try and pull off your transformation in front of your dog and I
guarantee
 he'll see right through your greatest transformation, which is quite humbling.
So do you test out new characters in front of your dogs?
I do. I rehearse in front of them, yeah. But it's very soul-destroying. They're very harsh critics, dogs. And they're very rarely impressed. [Laughs]
Speaking of animals, you've done quite a bit of anti-poaching work. And poaching finally became a worldwide topic of conversation with the killing of Cecil the Lion. 
You know what? It's really important. And poor Cecil paid the price, ultimately. It's fascinating that it takes something like that to illuminate the subject. With ongoing anti-poaching and animal trafficking as well, it's so rife. There is so much going on in that world. And it's difficult to practice what one preaches, because I struggle with the concept of vegetarianism and veganism being the right step forward as well. The killing of animals is symptomatic of something else. There are millions of chickens killed a day, so what's the difference between a wild, exotic, beautiful animal, and an animal we've been made to eat? I'm struggling in my head about sentient beings and the merciless killing of animals when we don't really need to at all. How do you effect change and understanding in people in the killing of animals full stop? I'm struggling with that in my head because I eat meat.
I've got to ask about Mad Max: Fury Road, because it's one of my favorite films of the year. When are we getting a sequel?
I don't know! I can't wait. I keep calling up Warner Bros. and saying, "Are we green-lit? Are we good? I want to get me leathers back on!" And I want a dog. Mad Max has got to have a dog! Now that I know what we're doing, I'm anxious to go out there and do some more. I'm waiting with bated breath, because Mad Max is awesome.