An elderly West Virginia dog owner is pleading for the safe return of his best friend.
Update (10-27-11) Kenny was found today by Bob Fannin's son-in-law, just before noon. A new picture added below says it all. Thank you for sharing and attempting to help – fortunately, we get to chalk this one up as a very happy ending.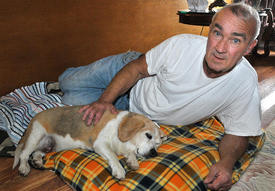 Bob Fannin's pickup truck was stolen in Culloden, W.Va. on Tuesday morning. Since then, Fannin has been on a mission to recover 15-year old Kenny, his partially deaf and blind beagle. He could care less about the truck, and is far more concerned about recovering his dog.
"I've had him for 15 years. They can take the truck, but not the dog," he said. "He's the best dog around. I've looked everywhere. I know it's like looking for a needle in a haystack, but I couldn't sleep."
The truck was eventually recovered in Putnam County near Winfield, W.Va. with no sign of Kenny. Fannin is offering a $1000 reward for the return of his dog. Anyone with knowledge of the incident or Kenny's whereabouts is asked to call 304-638-3930.