An eight-year-old Staffordshire bull terrier dog called Polly was abandoned tied to a poll in Bristol, England. Attached to the dog's collar was a note explaining why her previous owners could no longer care for her. Luckily for the dog, Pat and Jake Fagg noticed the pet and decided to help.
The Faggs were enjoying their day at a café when they realized a dog had been left tied and unattended nearby. The day's temperature was hot and the couple approached the dog to offer it some water. That was when they realized the dog had been abandoned.
The note left behind gave details of the dog, as name, age and breed, it also said Polly's owners were elderly and could no longer care for her.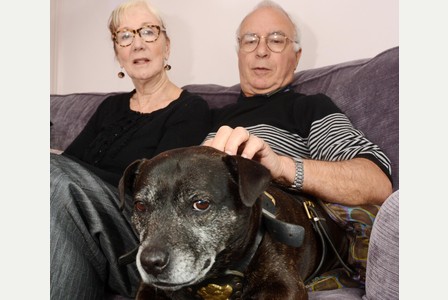 The Faggs didn't want to leave the dog behind, and for that reason they took her home. Once at home, the couple tried calling various places trying to find her someone willing to rescue her, but everyone they spoke with informed them they were at full capacity and if Polly was dropped off, she would probably be euthanized if no one adopted her.
"Polly's a lovely dog – a beautiful grey coat and well-fed," Pat told The Bristol Post. "We have taken her to be checked out and she has been neutered but not micro-chipped."
Fearing that no one would be interested in the dog, the Faggs decided to keep her while they find her a forever home where she will be appreciated and loved. The kind couple cannot keep Polly because they don't spend much time at home and also because Pat is disabled.
Even though Polly is a sweet dog, the Faggs believe she will do best in a home where she will be the only pet.
"She seems a bit frightened around other dogs so we think she'd be better off in a home with no other pets," said Pat.
If you are interested in adopting Polly please contact Christine Bayka, with The Moggery cats home in Bishopston, England at 0117 924 3128 or email [email protected]
Lets help Polly find her forever home!