On a sunny summer day, pilot Mike Young prepares his aircraft for a unique mission – to bring deliver two foster dogs to their forever homes. Young and two canine handlers hopped aboard, as they set off from North Carolina to Bell, PA, where the dogs have each been adopted to a loving home.
"This is a voluntary effort," said Young, who has worked with the volunteer organization "Pilots N' Paws" for quite some time.
Young's involvement in the program began during rescue efforts to evacuate dogs following the 2010 Gulf Coast oil spill. Not long after, Young jumped at the opportunity to work alongside Pilots N' Paws. Young even adopted one of the dogs from his second-ever rescue flight.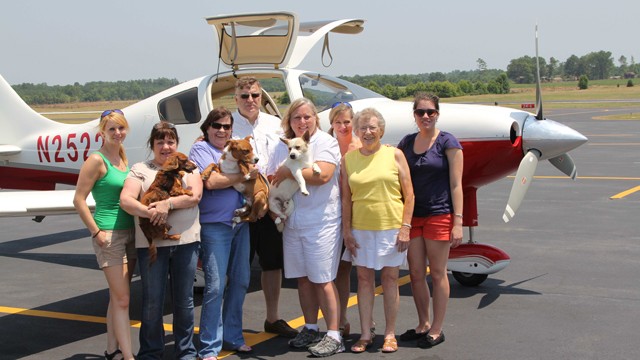 "These dogs are gems," he said. "They have so much love to give and people have so much love to give them that it's a shame that they're being put to sleep."
Many of the dogs that are a part of the program are delivered from "high-kill" shelters. These shelters often keep animals for a maximum of 72 hours, before they are euthanized. This is a harsh reality in some parts of the U.S. where spay and neutering practices are quite lax and as a result, shelters are overpopulated.
Rhonda Beach is all too familiar with this reality. She rescued the two dogs that Young transported from a high-kill shelter in Person County, NC.
"They use the gas chamber here," she said outside the local animal shelter. "They put them in … a steel box — and they put multiple dogs in at the same time and they turn the gas on. It's horrible. … The carbon monoxide gets pumped in and the dogs actually suffocate."
Many North Carolina counties continue to use gas chambers. Beach is one of many advocates who have been pushing law makers to outlaw the practice. She also works hard to rescue as many dogs as she can out of these shelters, and to a family that will provide a loving home for the pups. She conducts her rescues through her non-profit organization, "Chance's Anger Rescue & Education."
Beach partnered up with the Pilots N' Paws organization to widen her search for potential adopters in other parts of the country.
"It's just an amazing resource for the rescue community — and I have really taken advantage of it and use them quite a lot," she said. "[Young] is an awesome friend and pilot, he's just so dedicated."
Since the process of finding a permanent home for her rescue dogs takes time, Beach has put together a team of foster families. These foster homes provide care to the dogs, until a forever home is found.
Leaving on this particular flight were Rudy and Buddy. As Young and his crew prepared the plane for flight, the foster families used their last few moments to say goodbye.
"I wanted to do something to give back and animals have always been a passion," said Lisa Gunter, who took care of Rudy for more than three months. "I can't afford to keep them all, so this is my way of enjoying them and then seeing them find their home. … When you've had them as long as I've had him, it's going to be emotional for me today, I think."
Buddy fostered with Nicole Noon and her family for several weeks before they found a permanent home for him.
"We're going to miss him. It's always sad when you let them go," said Noon. "I tell my kids, the best way to think of it is it's better than dead, because where they were going to end up was the gas chamber … so when we're a little sad, [we remember] it's better than dead."
After a few photos and several tears, the foster families said goodbye to their four-legged friends as they loaded onto Young's plane. Several moments later, Rudy and Buddy had taken flight along with Young and his crew – off they went to their new homes.
"I always take helpers with me," Young said. "I can't worry about the dogs while I'm flying the airplane. There have to be other people in the plane who are tending to the dogs while I tend to the flying."
The dogs remained calm during the flight, as they dozed off in the handlers' laps. The pair took occasional peeks out of the window before dozing off again. When it came time to land, however, Rudy and Buddy's excitement grew.
"You're looking for your mom," one handler said to the dogs, as they parked at the terminal. "He's like, 'Where's my new mom?'"
Only a few short moments later, Rudy and Buddy were introduced to their new families. Before this, the families had only seen pictures of their new dogs.
"We decided to get him, like, four days ago," Buddy's new owner said, as they played together for the first time. "So it was nice and quick. It's like when you see them you just know, like, you need this dog. It's your dog."
It didn't take long for Rudy and Buddy to warm up to their new families – a few back scratches later, the pair were in doggy heaven!
"When I see the dogs go to their new owners," Young said, "to me that's what's rewarding — that this dog is going to have a good life. And I don't know who's the better … the dog or the person … for having done the rescue."