On Monday, a Marine in Texas welcomed home a dog he had never even met.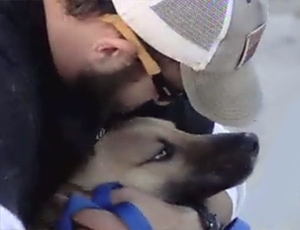 It's a happy ending that almost never happened. Marine Sgt. Jon Staffen was on deployment in Afghanistan when he fell for a stray puppy named Bill. Bill was the only surviving puppy from his litter, and almost didn't live beyond his first few days. He was nursed back to health by Staffen and fellow members of the Lone Star Battalion.
"It's funny looking back on it, but at the time it was genuine. You know he was like our little son," said Staffen.
When pictures of Bill were shared on Facebook and by local media, a donation drive was started in order to raise funds to fly bill to the US. Staffen needed $3,500 for the trip. In a matter of days, donors raised $11,000.  Plans were made for Bill's trip.
But Bill never made it out of Afghanistan. In November he died after a brief battle with parvo.
There is a visible shift in Staffen's demeanor when talking about the pup. "Bill was a fighter. He survived as a 9-day-old puppy in Afghanistan. Kind of hoping he'd pull through," he said. "But it was a bad disease."
That loss would be enough to shake anyone's resolve, but Staffen turned tragedy to triumph when he contacted a Kaubul shelter shortly after Bill's death, and asked them to use the funds raised to send another dog to the US. He specifically requested a dog with little or no chance of adoption or survival. The shelter told him the story of an injured dog named "Limpy," and they agreed to arrange for her trip to Texas.
Limpy touched down on Monday and Staffen was there to give her a warm welcome and a new name: Holly. The two will now embark on a new journey together, a journey of healing and discovery.  And while she may never know it, a dog once destined for death in the desert of a third world country has an entire team of volunteers cheering her on as she settles in and finds her bearings – and a puppy named Bill to thank for her life.