When pet lovers look for a new family member, they typically seek out younger dogs for purchase or adoption. Because of this, older dogs languish in shelters and are often the first to be put down, but a Minnesota woman says she's doing everything she can to change that.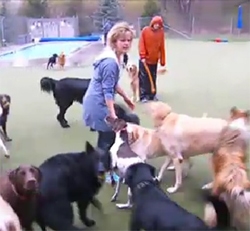 Jean Beuning, owner of Top Dog Country Club in New Germany, MN says she has been a dog lover for as long as she can remember.
"Dogs are my world," she says. "I've loved them since I could walk."
That love of dogs prompted Beuning to open a rescue effort, called the Top Dog Foundation – for dogs that are usually considered past their prime.
"The seniors, when they are in shelters, aren't the first selected," Beuning said.
Beuning and her staff work together to find homes for seniors who would likely be put down if not adopted. When people ask them questions about time, they are reminded to consider quality before quantity.
"Whether you have 10 years or two years, you have time, be it short or long, to exchange love and have value for each other," said John Bradford, of Top Dog Foundation.
The foundation reminds potential adopters that taking in an elderly dog can be easier than adding a younger dog to the family, because they are usually housebroken and understand some commands. They are also thankful.
"The dogs I've had since puppies have always known they're spoiled and don't get the difference; but the ones I've rescued really get it, and they're grateful," Beuning said. John Bradford echoes those sentiments, and points out that the rewards of adopting a senior dog are immense.
"I think the dog gives to the people and the people give to the dog," Bradford said. "And you never quite know who gives the most."
For more information on adopting a dog, go to www.topdogfoundation.org.