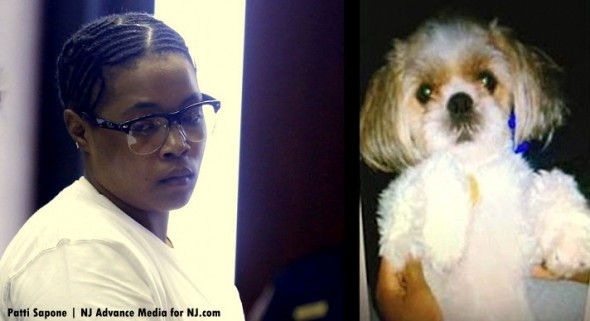 Usually animal abusers are given minimal sentences which do not curb their behavior, but lately judges seem to really be cracking down on animal cruelty.  Today a New Jersey woman was sentenced to four years in prison for throwing a dog into oncoming traffic, and upon her release will have to do community service with an organization involved with preventing animal cruelty.
In August of 2011, Haniyyah Barnes got into a dispute with neighbor Nazirah Bey over a parking issue, and her anger quickly escalated.  Bey allowed Barnes' mother to park in her driveway two houses down on their Newark street, and on the 26th of August, Barnes became enraged because Bey's car was blocking in her mother's.
Barnes kicked in the front door, and when Honey Bey, a two-year-old Shih Tzu began barking, the enraged woman grabbed her by the throat, went outside and threw her into traffic.  Honey was struck by a vehicle and died.
A Newark police officer was in a patrol car nearby, and witnessed Barnes hurling the tiny dog into the street.
Bey's father, Daryl Williams, is still deeply shaken by the incident.  He was ill when this occurred, and says Honey Bey "kept me going."
"I mean, it hurts, 'cause I don't have a friend no more," he said.
Bey said telling her children what happened was devastating, as they loved her very much.
"It's not a dog," Bey explained to the courtroom.  "It's family to us."
Superior Court Judge Richard Sules said Barnes showed "callous indifference" to the dog, and said she has an "anger problem which needs to be addressed."
On October 13th, 2015, a jury convicted her of animal cruelty, theft, and criminal mischief.  Attorney Michelle Treiber said her client had changed and was remorseful.
"I think she has gotten herself together and this was a changing event, a life-changing event for her," said Treiber.  "This is not something that is ever going to happen again."
But Essex County Assistant Prosecutor Michele Miller asserted that Barnes hadn't changed, and "never took this seriously, always took this as a joke."
At her sentencing hearing, Miller says Barnes showed no remorse and even stuck her tongue out at Miller and Bey.
Judge Sules sentenced her today to four years in prison for her crimes, with six months of time served.  She must also pay restitution to Bey in the amount of $2,000, and will perform 30 days of community service with an anti-animal cruelty organization upon her release.