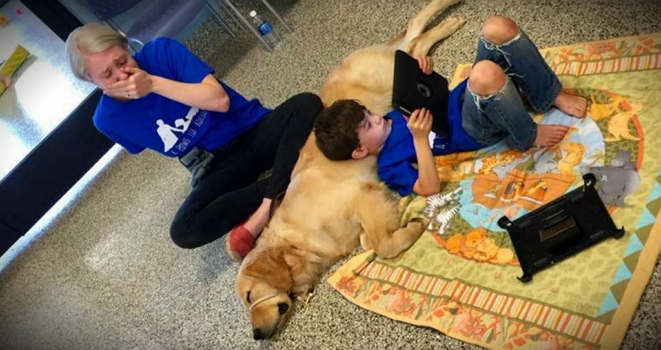 Five-year-old Kai was anxiously waiting to meet the new friend he had been anticipating. And when the wait was over, the young autistic boy met Tornado.  His mother, Shanna Niehaus, was overcome, holding back her tears and covering her mouth for fear of causing any disruption to a scene she thought she might never see. While her own tears flowed, so did that of the million plus people who felt joy upon hearing the story and seeing the video.
Tornado had just graduated with a degree in service from 4 Paws for Ability and was more than ready to meet his new friend, his tail constantly wagging.  Kai had been on the waiting list for a dog for two long years and finally, the two were together.
"He was worried about his hair, and would his dog love him, and when he came and the dog laid down, it was just contentment," his mom, told WLWT.
4 Paws for Ability operates a three step program. The puppies are first sent to prison, where inmates teach them basic commands. Then they move on to local colleges for fostering. Tornado went to Miami University, spending a semester with Kate Hovious. She sat in the audience during Tornado's graduation, sad to see him go, but proud she, "got to be a small part of how that happened," adding, "I don't think anything can really beat that."
There is an undeniable bond between Kai and Tornado, one that should be celebrated. Where once a little boy found it hard to make friends, even to enjoy being hugged, let alone touched, the instant connection with his dog has opened his world.
Heartfelt thanks goes out to all organizations, like 4 Paws for Ability, who bring functionality, connection to the world, and joy to the many people out there with autism and other challenging conditions. The awareness Kai and Tornado's video has brought alerts the public to programs, such as this, that needs support, and creates a better understanding for all who have the privilege to view this powerful and intimate moment between a boy and his dog.