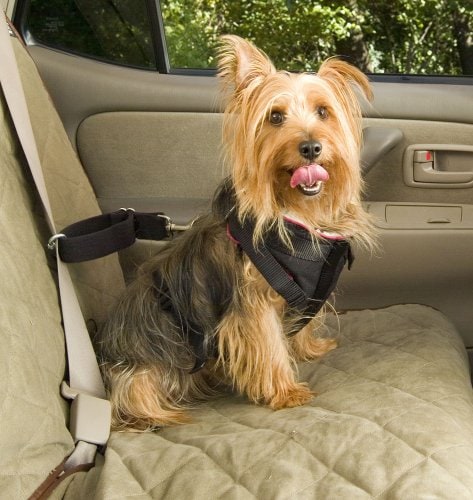 In a revolutionary new study, crash tests showed that not a single kind of dog harness provided sufficient protection in the event of an accident, and had a 100 percent failure rate.
The nonprofit Center for Pet Safety (CPS) said that despite being properly harnessed, canine crash-test dummies became projectiles, and were even decapitated.
"We tested them to the child safety restraint standard and we experienced a 100 percent failure rate to protect either the consumer or the dog," said CPS founder and CEO Lindsey Wolko. "That is a very real concern for consumers."
CPS would not release the names of brands tested out of fear that consumers will stop using harnesses altogether. Injuries are typically worse for unrestrained dogs, but this test is showing that in some cases, the harnesses are just as lethal.
Veterinarian Kim Haddad has seen firsthand what kind of injuries dogs sustain in accidents.
"Broken legs, broken jaws, soft tissue injury, it can be pretty traumatic," she said. "Something is better than nothing, but again, it is only going to be as good as the manufacturer, the fit and the user application of the product."
The American Automobile Association says 20 percent of owners admit to allowing their dogs to ride freely (though the actual number is probably much higher).
Constituents of some states have suggested bills that require drivers to keep their pets harnessed, but CPS worries that such laws would create a false sense of security. People might mistakenly believe the harnesses have been tested for safety. Though some manufacturers claim they do test, there is no government standard in place to guarantee their assertions of high quality.
CPS is currently calling for standardized testing akin to ones for child safety seats. Lawmakers must be educated on the subject before creating harness legislation. Subaru is working with CPS to initiate a harness testing standard.