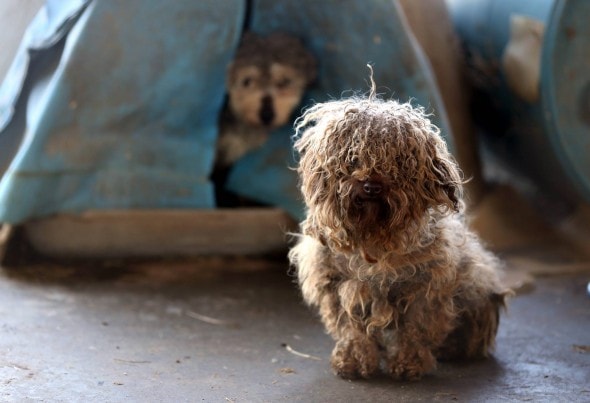 Last week 183 animals, including 121 dogs, were rescued from a puppy mill in rural Arkansas.
All of the animals rescued were being kept in deplorable conditions. The local sheriff's office served a search warrant last Thursday and found the animals living in waste and many without access to water and food. Several rescues helped with the raid and have taken the animals in.
"When I opened the door, there was an overwhelming smell of ammonia from the urine and feces on the property, "said sheriff's spokesman, Maj. Lafayette Woods. "Not only was it in the cages and the living areas of the animals, but it was also on the floors."
Many of the animals were underweight and several were in need of immediate medical care. The owners of the 40-acre farm, James and Tara Best, were issued misdemeanor citations.
"In all likelihood based on some of the animals' conditions here, those charges will be updated to aggravated animal cruelty which is a felony," said Woods.
The dogs are being cared for by the Humane Society of Saline County. They are currently considered evidence and will not be available for adoption right away.
"There's no words I can describe to say how good it is to get them out of there," said Julie Patton of the Humane Society of Saline County. "It's even going to be more wonderful to see them getting their new homes."