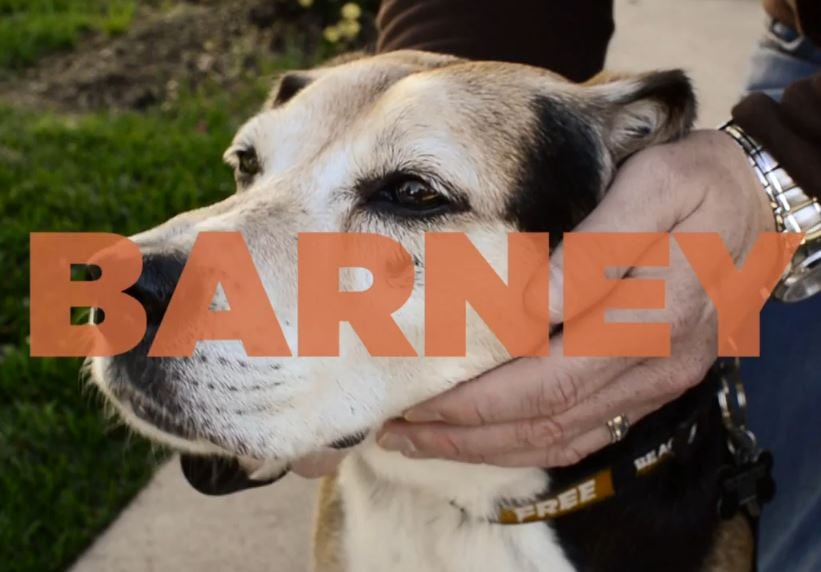 .
Barney has known every sort of bad luck in his lifetime, but he weathered on and has finally found happiness and a stable, loving home.
Barney's story hurts to tell. He has been a laboratory research subject, an adopted and then abandoned family member, a homeless stray on the street, a long-term shelter resident, and now a terminally ill old man. In his short seven years he has managed to live every nightmare a dog could know.
ARME's Beagle Freedom Project rescued Barney and found him the perfect forever home.
Beagle Freedom Project became aware of Barney earlier this year from a supporter visiting the Indiana shelter where he lived and saw that tell-tale tattoo in his ear. Upon our further investigation BFP rescers found out from the shelter staff that Barney had originally been in a local pharmaceutical laboratory and spent the majority of his life as a test-subject. He was freed by a laboratory worker so he could be given as a gift to a friend.
BFP has rescued other ex-research beagles from pounds after they've been abandoned and says: "Because these dogs are survivors of severe physical and emotional violence they need special care. The trauma they are recovering from means they require prepared families with abundant patience, love, and consideration of their needs. "Free to good home" ad respondents and the friends of laboratory staff usually are overwhelmed. This is why BFP encourages laboratories to work with reputable organizations like ours."
Poor Barney was bounced around. The friend of the lab worker dumped Barney at a shelter. He found another home with another family but ended up back at the shelter when the couple divorced. He was adopted again by someone who allowed him to become a stray when the adoption didn't work out. A Good Samaritan picked Barney up from the streets and he spent a year and a half as a shelter dog.
Once he was rescued by BFP, Barney's life turned around. Though he is an older dog and he has health problems, he has found stability and a happy home.
Despite it all, Barney is a charismatic little love bug. His resilience is inspiring. He does not let years of cage-life, deprivation, physical pain, abandonment, or a cough prevent him from loving his people and his life. His tail never stops wagging.
Matt Dunbar agreed to foster Barney after getting an email from BFP Adoption Coordinator Katie Johnson, and has given him a loving forever home. The first couple of nights with Barney were rough: he had a cough and health issues that required him to take a lot of pills. On the second night Matt, a police officer, broke down when Barney retreated to a corner to lie by himself, and Matt though Barney had gone off to die.
Barney is doing well now in a happy home with his loving petdad and two other beagles. BFP has made it easier for Matt to care for Barney by paying his medical bills.
Barney suffers from an enlarged heart, congestion in one of his lobes, possible pulmonary pneumonia, and a strangely dilated esophagus. Despite it all, his little tail never stops wagging, and he will get love and proper care every minute for the time he has left.
 Watch Barney's story:
.
.

.


<via>