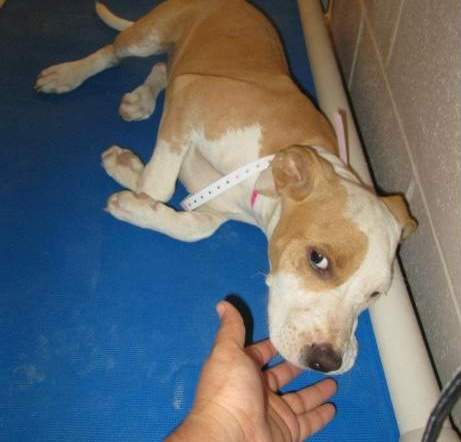 A young puppy thrown from a moving vehicle was two hours from death when a local animal rescue group stepped in to save her.
Juno was suffering from two badly broken elbows after being thrown from a car, and an initial assessment suggested that it would be too expensive to save her,  so the wounded dog was scheduled for euthanization. 
Helping Orphaned Hounds heard her story and decided that she had endured too much to die at such a young age – so they pulled her two hours before she was to be put down.
Using money from PACC911's Lulu's Angel Fund, they scheduled Juno for surgery Thursday – screws were used to repair her broken legs, and she's said to be resting and recovering well. The total cost of the surgery was $3,500:  if you would like to donate to Juno's care fund, please visit  www.PACC911.org and click on Lulu's Angel Fund.
Anything collected above the cost of the surgery is held for for the next victim.