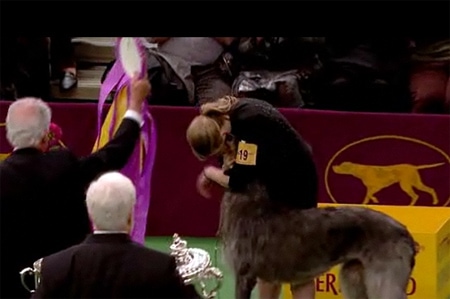 Hickory, a Virginia-bred Scottish deerhound, surprised dog watchers at the Westminster Kennel Club show when she edged out a field of seven dogs for the top spot. It was the first time a deerhound won the coveted title.
"For a lot of people at home, this is probably their first real good look at this breed," the announcers said. The Scottish Deerhound is believed by some to have existed back to a time before recorded history. The breed is famed for being docile and eager to please, with a bearing of gentle dignity. Deerhounds originally served as companions to 18th century nobility, but Hickory makes her home on a farm in Virginia.
If you missed the best in show award when it aired see below for exciting coverage of the big moment.