Not only were there dogs, both real and floral created, featured on floats during the 2017 Rose Parade in Pasadena, CA., seems one, in particular, walked away with not only a top trophy, but two Guinness World Records, too!
Guinness World Record-breaking Lucy Pet Products' Gnarly Crankin' K9 Wave Maker was 126 feet long and weighs 148,250 pounds, seen here making the critical corner onto the main parade route.
…………………………………………………………………………………………………………………………………………………………………………………………………………………………………………
The stunning float, "Lucy Pet's Gnarly Crankin' K-9 Wave Maker," sponsored by The Lucy Pet Foundation, was the winner of the Extraordinaire Trophy awarded for most spectacular float (including floats that do not retract to 55') and featured dogs surfing on an 80-foot-long ocean of water.  A special trailer went coast-to-coast "auditioning" prospective float riders, too, in addition to sharing the message of Lucy Pet.
To make things every grander, and certainly a great way to start out a new year, according to PR News Wire:
The Lucy Pet's Gnarly Crankin' K9 Wave Maker 2017 Tournament of Roses Parade float, built by Fiesta Floats, has been officially certified as the longest and heaviest single chassis float ever in parade history. Measured and weighed by the California Highway Patrol the float is 126 feet long and weighs in at 148,250 lbs.
"This is a really big float," says Kim Partrick, Guinness World Record adjudicator. "It weighs over 74 tons easily breaking the past record and will probably hold it for sometime to come."
…………………………………………………………………………………………………………………………………………………………………………………………………………………………………………
The opportunity to appear in the Rose Parade gives Lucy Pet a world-wide platform to share their goal to reduce the number of dogs and cats that are euthanized due to overpopulation throughout the U.S.
As to the lucky dogs making the cut? Here they are: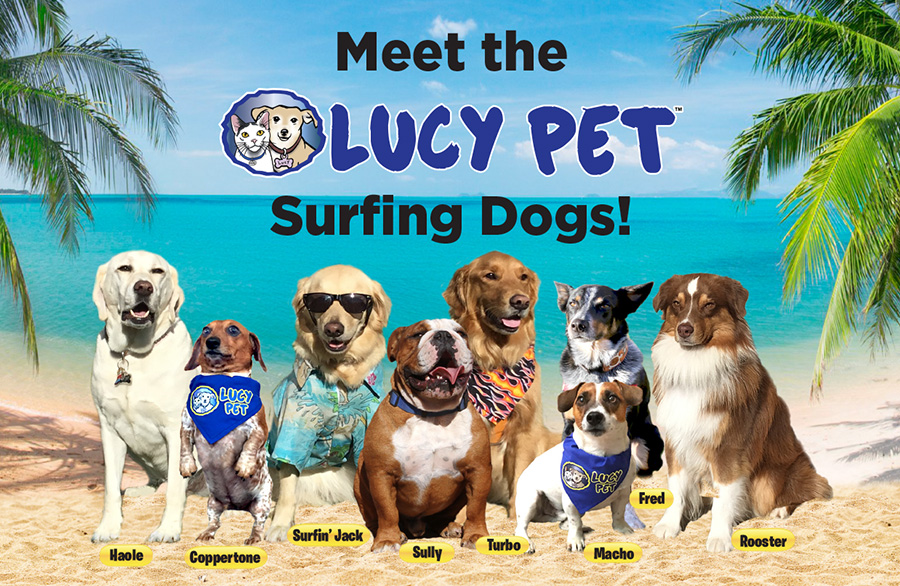 ● Surfin' Jack (Breed: Golden Retriever/Saluki) Surfin' Jack was adopted from the East Valley Animal Shelter in Los Angeles. She is the Canine Ambassador to the Lucy Pet Foundation and Chief Product Coordinator for Lucy Pet Products. This fun-loving four-year-old pup loves traveling to pet stores and events as the official spokesperson for Lucy Pet, jumping in the swimming pool, chasing squirrels and digging for gophers.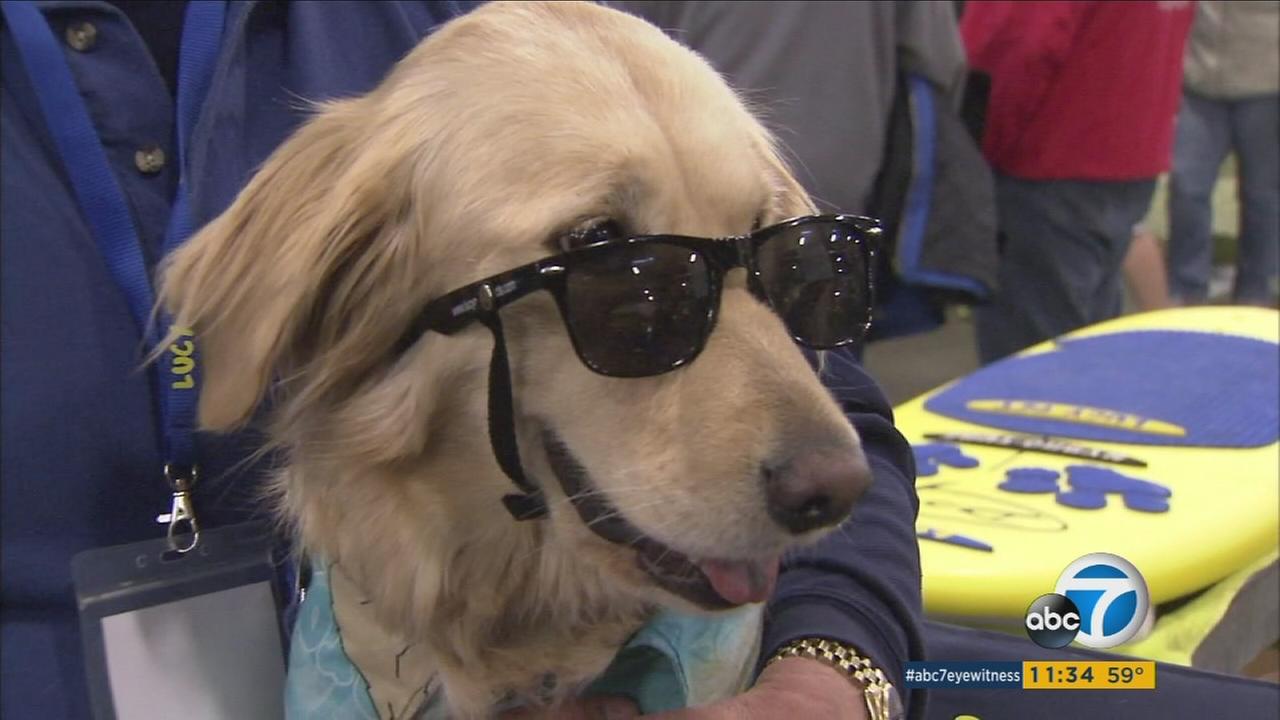 ● Sully (Breed: English Bulldog) Sully was named after Captain Chesley Sullenberger, the pilot famous for landing a plane on the Hudson River is 2009. Sully took home 1st place in 2016 Unleashed by Petco Surf Dog Competition, and this will be his third time riding on a Rose Bowl float. This seven-year-old pup loves surfing, riding on ATVs, digging for gophers, staring at cows and sleeping on expensive furniture.
● Turbo (Breed: Golden Retriever) Turbo started at six months old, and he has been competing and winning on the surf dog circuit since 2013, including 1st place win at the 2015 Helen Woodward Surf Dog Surf-A-Thon in Del Mar, Ca. Turbo was rescued from a life with little human interaction, malnourished, covered in parasites and afraid of the world, but he flourished with the love and affection from his new parents. This four-year-old pup loves to surf, swim and being a foster 'brother" for very ill or severely injured dogs who require long-term foster care and medical attention while awaiting their forever homes.
● Haole (Breed: Labrador Retriever) Haole has been competing and winning on the dog surfing circuit since 2013. He "told" his owners he wanted to surf by jumping on his dad's surfboard! He works with A Walk on Water, a non-profit organization that provides surf therapy for special needs children and their families. This eight-year-old pup loves surfing, obviously, riding on his golf cart, eating Frosty Paws ice cream and shredding new toys in minutes.
● Fred (Breed: McNab Shepherd) Fred is a Champion Disc Dog and born entertainer who taught himself to ride a surfboard in the family pool. He loves his family's cats and even shares his treats with his cat "Thomas: during training exercises. This fun, five-year-old pup loves swimming, dock diving, surfing, chasing balls, learning new tricks and entertaining crowds at local school and community fundraising events.
● Coppertone (Breed: Miniature Dachshund) Coppertone has been featured in countless news articles, videos, greeting cards and music videos around the world. She was recently featured on America's Funniest Home Videos. Coppertone holds the title of DOGTV's honorary mayor of San Diego and was featured on the Champion Dogs of San Diego parade float. This loving three year old loves to surf, skateboard, jet skiing, snowboarding, paddle boarding, riding Harley Davidsons, modeling and performing tricks.
● Macho (Breed: Russell Terrier) Macho is an AKC champion Dock Diver and holds multiple titles in Obedience, Racing, and Tricks. Macho spent the summer surfing from coast to coast alongside his house sister, Coppertone, on the Lucy pet's Gnarly Crankin' K-9 Wave Maker National Tour. This two-year-old loves surfing, playing frisbee, lure coursing, skateboarding, soccer, snowboarding, kayaking, fireworks, dock diving and performing tricks.
● Rooster (Breed: Australian Shepherd) Rooster holds multiple titles in Dock Diving, Barn Hunting, and Obedience. He is happiest when he's around people, performing and having his picture taken. Rooster is new to the dogs surfing world but spent the entire summer practicing and won a coveted spot on Lucy pet's Gnarly Crankin' K-9 Wave Maker Rose Parade float! This two-year-old pup loves swimming, dock diving, showing off his new surfing skills, playing fetch, pretending he's a gymnast and smiling for photos.

…………………………………………………………………………………………………………………………………………………………………………………………………………………………………………
Grand Marshal Trophy winner, the award presented to the top float demonstrating excellence in creative concept and design, Farmers Insurance, used their extremely popular "Mer-Mutts" advertisement as the inspiration for "We Came, We Saw, We Covered."
At first glance, the float appears to be a mobile claim center bus, but when it elevated to a height 30 feet, the eight dogs, aka Mer-Mutts, are enjoying the "accidental" pool party…inside the house. In a nod to another one of the insurance company's true claim stories, on the mantle sat a tribute to "Hot Dog," the dog whose passion for pizza set his owner's home on fire.  Oops.
https://www.youtube.com/watch?v=7yM6n-0-Gj4
…………………………………………………………………………………………………………………………………………………………………………………………………………………………………………
ABOUT THE LUCY PET FOUNDATION: Named for a little chihuahua that found Joey Herrick's son, Dylan, thought might have been a baby coyote on the hill across the street from their home, the organization found its calling. "Lucy," the foundation's namesake, who the Herrick's, after searching for her owners and deciding to keep her, dutifully set her up to be spay only to find out she was pregnant.  Her off-spring were found loving, forever homes, but the situation became a call to action.
The goal of the Lucy Pet Foundation is to have spay/neuter and adoption mobile clinics in every major city in the country. If you do the analysis in just one major city, the numbers are staggering. With one mobile clinic, we can spay and neuter over 120 dogs and cats per week. Doing this 48 weeks of the year means 6,000 animals will be spayed and neutered. This will prevent those animals from adding a minimum of 15,000 new potentially homeless animals to pet overpopulation. By year three it is estimated that we can prevent over 500,000 animals from suffering in that same community with just one mobile clinic.