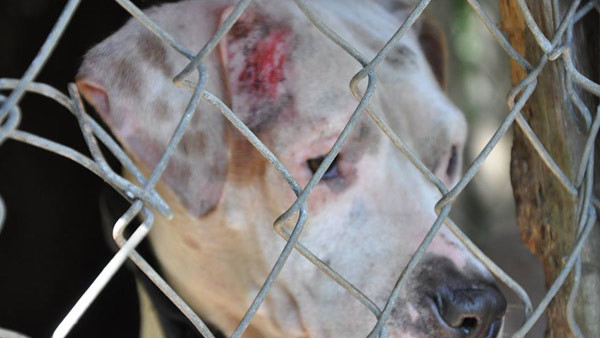 Sheriff's deputies in Brooksville, Florida have rescued 19 adult pit bulls, and two pit bull puppies from a residence suspected of being a dog fighting and training facility.  Hernando County Sheriff's Office said the dogs were kept in "deplorable" conditions, and the property owner was arrested and charged.
On October 9th, deputies were sent out to 810 Leonard Street regarding a dog reported to be severely injured, and left in a cage on the property.  When they got there, officers saw a brown, male pit bull in a cage kept under the house.
Aside from the injury, the dog was in considerable distress emotionally, he was severely underweight, and there was no food nor water within his reach at all.  Regardless of these conditions being illegal, it's unbelievably inhumane to a degree not seen by the officers or animal control, ever.
The dog from the initial report was rushed to a local animal hospital, and word on his condition has not been released as of the writing of this article.  After that, deputies report that a man wearing a shirt that said, "No Luv Kennels" on it then let them into the rest of the property.  He said that he doesn't live or work there, and he was only wearing the shirt because he had adopted a dog from there before.
The man informed that the operation also had a breeding facility not far from the initial location.  Deputies were able to quickly obtain warrants to search both properties, and the man in question was arrested and taken in for further questioning.
Be sure to stay tuned to Life With Dogs for more information as it's released.