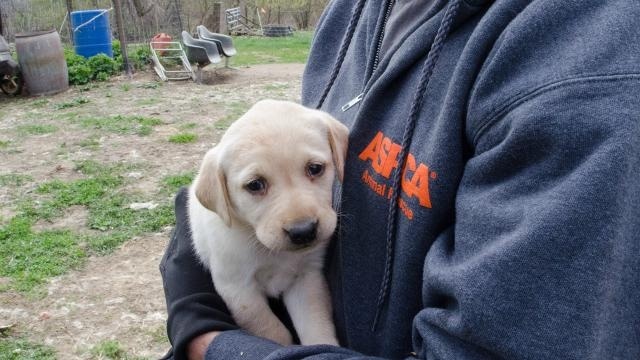 .
Officials rescued nearly 50 dogs from a backyard breeding operation in Elmwood, Wis. on Friday morning – 35 adults and 13 puppies – all of them yellow Labrador retrievers.
Director of Investigations for ASPCA Investigations Kathryn Destreza told Madison's Channel 3000 that what she and other field workers saw is no way for any dog to live
"The puppies at breeding facilities are sold for profit, but many people don't realize that their parents are often kept there for years, subjected to incessant breeding and usually lacking basic care and socialization."
Several deceased dogs were also discovered on site; officials said it was a large-scale operation. Its owner/operator was booked by the ASPCA and the Pierce County Sheriff's Office after they searched the property on a warrant.
"Large scale animal cruelty cases are not something that we encounter often here," said Pierce County Sheriff Nancy Hove. "This case started with a complaint from a concerned citizen who was appalled by the conditions these animals were exposed to."
The dogs seized are considered evidence; they will be cared for by Animal Humane Society responders until their custody is determined by the court. The ASPCA is collecting forensic evidence and providing legal support in order to ensure the best outcome for the dogs.