Three people have been arrested and fifty dogs have been seized from a Tennessee home suspected of hosting a dog-fighting operation.  All of the pit bulls are now being properly cared for and evaluated.
After a four-month investigation by local authorities in Seiverville and the Humane Society of the United States, Mark Heatherly, his wife Kimberley and son Jacob have been charged with conspiracy to commit dog fighting.  They have also been charged with drug possession.
The rescued dogs range in age from four weeks to mid-teens.  Many have scarring consistent with fighting.
Sevier County Sheriff's Office Chief Deputy Michael Hodges said the interior of the house "looked basically like any other home," with one dog wandering around freely, but dozens more were outside in deplorable conditions.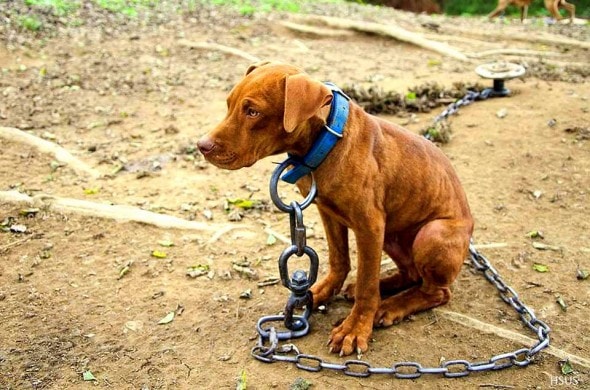 "When you see a piece of property that has 42 adult dogs chained up using a car axle to secure the chain in the ground they're probably not raising pets," Hodges noted.
"These 50 dogs are the lucky ones who no longer face life at the end of a heavy chain or worse — a bloody pit," said Chris Schindler of the HSUS. "We are thankful to the Sevier County authorities for their efforts in this investigation and in forcing dog fighting out of their community."
The dogs have been taken to a temporary shelter and are being given medical care and evaluations that will determine whether or not they are eligible to be adopted in the future.
"Dog fighting is a despicable crime that will not be tolerated in Sevier County," said Sheriff Ron Seals. "We are grateful for the assistance and expertise of the Humane Society of the United States on this case, and glad to see these dogs off to better lives."