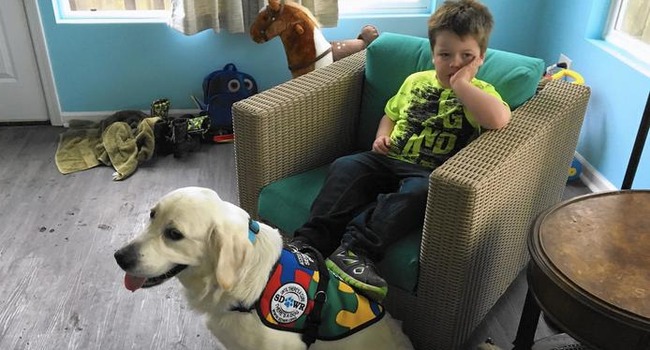 ——————————————————————————————————————————————————
For the past year, Jason White's parents have been working toward the moment when they'd be able to give their 6-year-old son, who has autism, the gift of a service dog.
On Easter weekend, it finally came to pass. Jason spent Saturday night sleeping on a dog bed, his new companion, an English cream retriever named Sage, lying next to him.
The cost? Training runs $25,000 and Eleni and Patrick White saved and collected donations to cover it. Sage, at 13 months, will help keep Jason calm.
"It's hard to believe it's really happening," Patrick White told the Chicago Tribune.
Eleni White has been really excited about the whole process but said she was surprised how much a regular dog Sage is, playful and rambunctious. But when Sage wears the service-dog vest, he knows it's time to work, says Erin Gray, a senior trainer with the nonprofit Service Dogs by Warren Retrievers, or SDWR.
Gray will stick around with the White family for a few days, helping them get used to taking Sage out in public and assisting as Jason and Sage bond. She'll check in every few months as Sage continues his autism-specific training.
SDWR provides dogs for people with autism, post-traumatic stress disorder, diabetes and seizures, according to its website. Autism service dogs add structure in day-to-day life and act as "a safety net, a guardian, and a friend."
Jason's father isn't quite sure what he's expecting with Sage, but he said he hopes it will help with public outings, something his mother is hoping for too. The Whites divorced a year ago, so oftentimes each parent goes out with Jason on his or her own.
While Jason is relatively "laid-back for a kid on the spectrum," his father says, he occasionally has episodes where he can run away or become aggressive.
"I'm hoping it will allow Jason to interact in public more," Patrick White said. "Right now everything we do is really controlled, so it will be nice for him to just be a kid."
Jason is also non-verbal; his parents hope Sage might help with his communication skills, as well.