If you ask Roo, the two-legged, 1-year-old black and white poodle/shih tzu mix from Cheyenne, Wyo., all he wants for Christmas is a home.
This energetic and lovable dog came to Black Dog Animal Rescue (BDAR) after spending some time at the Laramie Peak Humane Society in Douglas, Wyo.
Roo doesn't have front legs due to a birth defect, but his disability does not stop him from enjoying life.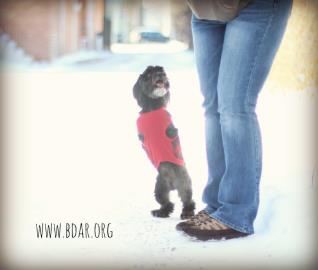 According to BDAR, Roo's motto is "No legs? No problem!"
"This little guy is a shining example of determination and adaptability. He is simply amazing!" states BDRA's website. "His tail is always wagging and he always has a smile on his face. [Roo] gets around by hopping everywhere he goes. He follows his foster mom's every move and when they get to where they're going he either sits on his haunches or lies down until it's time to get moving again."
Roo ended up at the Laramie Peak Humane Society a month ago after his previous owners realized his special needs were something they could not take on.
Fortunately for Roo, he was placed into foster care immediately. His foster parents, Emilee Intlekofer and her husband Casey have fostered other dogs before and say that Roo a delightful pet.
"I've had harder cases, like separation anxiety and things like that," Intlekofer told Wyoming News. "Roo's not difficult, he's just different. He's real cuddly and sweet, his tail's always wagging, and he doesn't feel sorry for himself."
Despite having just two legs, Roo is able to do what most four-legged dogs do.
"To eat and drink, Roo bends at a 90 degree angle and holds himself that way with his 'abs of steel,'" said DBRA. "When he uses the restroom, he does all his business standing straight up and he never soils himself."
The only thing Roo needs help with is when it comes to climbing up or down stairs.
"I have to carry him up and down stairs," said Intlekofer.
The ideal family for Roo will be one that is willing to dedicate a lot of time to work with this lovable dog. Roo is still not 100% potty trained but he is working on that. He also suffers from separation anxiety, but this is very common in dogs that have been moved around from home to home at a young age.
"We want to make sure whoever takes him home understands there's the possibility other things could come up later in his lifetime as a result of this," Britney Wallesch, BDRA founder, told Wyoming News.
If you are looking to grant a homeless dog a Christmas wish this year, consider adopting Roo or any one BDRA pet. Visit their website at www.bdar.org and fill out an application. Please know that BDRA's adoption program is 100 percent volunteer-run, therefore follow-up time can take longer than with a standard shelter adoption.