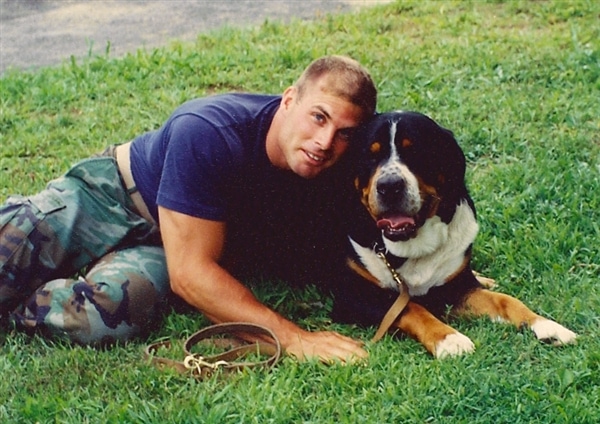 Rhode Island police officer Matt Zarrella has spent the last two decades training search and rescue dogs, and focuses on rescuing stray and death row dogs. He gives dogs that have been given no chance a reason to live.
Zarrella's colleagues and loved ones are amazed at his innate bond with both animals and the missing people he works to find.
"It's a connection you have with someone you don't even know," explained Zarrella. "Yet you're both human beings, you both deserve respect, you deserve that opportunity to be found."
A teenager was wedged between some rocks on a Rhode Island hillside. Search parties were combing the woods for him, but he had been missing for over a day and his parents couldn't help but to fear the worst.
Then Zarrella's 130-pound Swiss Alpine named Hannibal leapt over the ridge where the boy was.
"[The boy] put his arm around the dog's neck," Zarrella said. "I climbed up and over and looked down, and he was in between the rocks."
And thus began Hannibal's days as search and rescue dog, and Rhode Island's first K-9 officer.
The former marine gets the dogs from the euthanasia lists at shelters. Nearly 10 years ago, he took Maximus, a German shepherd rescued from a shelter at 6 months, and another dog to Vietnam to search for the remains of a US pilot who had been shot down in 1965. The dogs were successful.
"Bone fragments the size of your fingernail," Zarrella said. "Just an amazing accomplishment by the dogs."
His dogs also found a mass grave in Columbia, as well as an airplane under 100 feet of water off of Block Island.
Most recently Zarrella saved Ruby, an Australian shepherd/Border collie who was hours from being put down.
"I wanted to take a dog that didn't have a shot, that I know physiologically can do the work. It's just a matter of motivation," he said.
"I feel like it's the ultimate second-chance story," said filmmaker Mary Healey Jamiel, who is working on a documentary with him. "Here are these dogs that are discarded, and now they can save people."
Visit NBCNews.com for breaking news, world news, and news about the economy