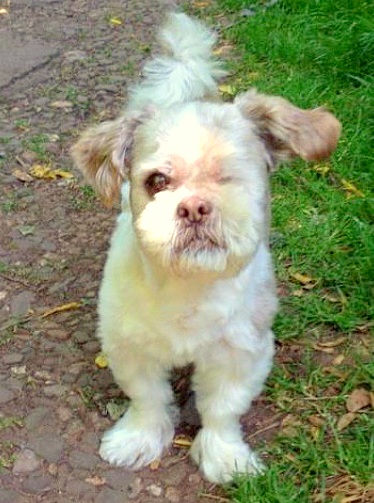 I first noticed this little dog in the town being walked slowly on a lead by a young man. After seeing them a few times I stopped, petted the dog and asked the man about him. He said that he'd had the dog – Toby – from a puppy but just after he turned one, he went completely blind. Vets said it was the result of inbreeding and that nothing could be done. Toby was now about four.
We met a few more times and the man said he was going back to Asia but that two friends about twenty miles away would be having Toby. I told him that if they ever needed me to look after Toby I would gladly do so and gave him my number to pass on. A few days before Christmas I got a call from them saying they were going to London for four days and would I look after Toby. I of course agreed and they drove up and dropped him off.
Days turned to weeks, months and eight years on I still haven't heard from them. I thank God they didn't come back for him, as he is a major part of my life. A few days after I started looking after him, he was walking without a lead, following my voice and the jingle of my keys, and soon knew words like "stop," "careful," "steps," etc., even though his former owner spoke to him in Malay.
He mapped out my house and knew when to avoid obstacles, but the greatest thing was when I got him to run. If we were ever in an open space with no obstacles I would just say "run" and the look on his face as he ran round and round was of sheer happiness and joy. He is now about twelve, has lost one eye, has a bad heart, water retention and cannot run anymore, but still likes his walks, food and playing with his toys. I can't imagine life without Toby, so I urge anyone, never be afraid to take on a blind dog.
Mark
Exeter, United Kingdom