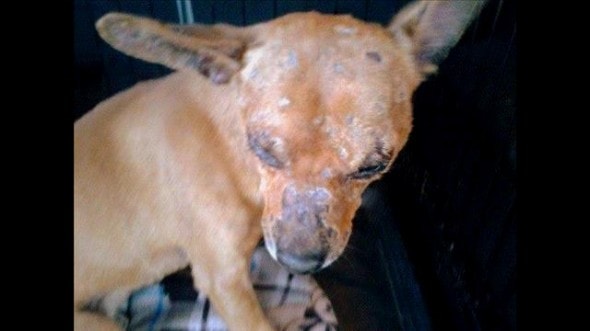 A badly abused dog, burned with chemicals and shot with BBs, is recovering after being taken in by Colorado animal rescues. Now Henry could use a home so he can learn what it means to be loved.
Henry had been so badly abused by his former owner that he finally ran away from his Clovis, New Mexico home. He had been burned numerous times on the face, legs and genital area, as well as shot in the chest with BBs.
He was taken in by Shooke Unleashed Animal Rescue, who treated him for his injuries. This week he was transferred to the Denkai Animal Sanctuary for additional treatment.
"He wants to be loved on and will walk up to you, then close his eyes and brace himself, just hoping for a gentle touch," said Cady McClure, Dog Program Coordinator at DAS. "He was burned so bad his eyes were swollen shut. He can see now just fine, and is healing up, still lots of healing to do but doing well."
Now he is ready to be adopted by someone who can show him what family and love are supposed to be, and spoil him til the end of his days.
If you would like to adopt him, please click here or call 970-454-3353. He is currently in Grover, about 100 miles northeast of Denver.
If you would like to donate toward his care, please click here.