When her mom fell down the side of a steep cliff, rescue dog Abby knew just what to do – get help.  She ran to find her dad, and then led him to where the woman lay injured.  She had to be airlifted to a hospital, and Abby was rewarded with lots of treats.
Sue and Michael Pethick, from Caloote, South Australia, were on vacation at Gleesons Landing on Yorke Peninsula with their two-year-old red heeler mix, Abby, who had been adopted from a shelter about a year ago.  While Michael went fishing, Sue opted to take Abby for a short walk.
"She headed off and after 15-20 minutes I got worried because she hadn't come back," Michael explained to The Adelaide Advertiser.
"I heard a noise in the distance, like a voice in the distance, but I couldn't work out what it was.  I thought something was wrong … then I happened to see about 200m up on a bushy sand dune, Abby was standing on top of it and I thought that was really strange.
"I called her and she came running to me and I said 'take me to mum' and she turned around and headed down this little track, along the cliff face and walkways and … she stopped near an edge where it goes down to the beach and waited for me to catch up — three meters down, there was Sue laying on her back."
Sue had been attempting to walk down an embankment to the beach when she lost her footing and fell down the cliff face, breaking her ankle.
"Sue was telling me that Abby didn't want to leave her (but) she told Abby to go find dad (and) that's what (she) had done," Michael said.  "For some reason — I don't know how she knew what to do."
He called emergency services, and Sue was airlifted to the Royal Adelaide Hospital.  Police called Abby a "wonder dog" for her heroic actions.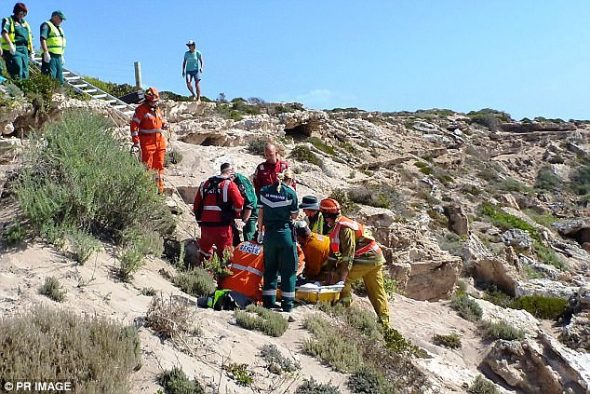 "For her to come and try to find me was just amazing and then for her to take me to Sue … it's just really one of those things that you only read about," Michael said.
"We're very fortunate that she needed to be rescued and we rescued us about a year ago and now she's rescued us."
He also sang her praises on Facebook: "Loving our little girl even more."
"She's certainly a little hero now," Michael told the Australian Broadcasting Corp. "I've just pulled a big bone out of the freezer so when that defrosts she'll get that."