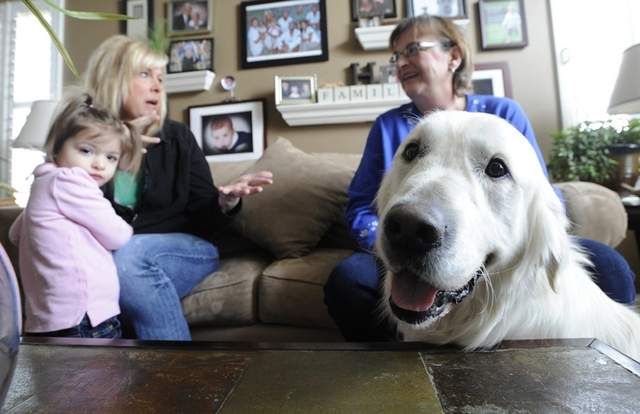 The Harmsen family has already lost one dog in the past few months, and the thought of losing a second one was unbearable.  So when Jasper ran off after a rabbit when they had only had him 4 days, they were desperate to find him.  Finally, after a long torturous week wondering where he was, they got word that he had been found alive and well 25 miles from home.
In December Mert and Bonnie Harmsen got the sad news that their 10 year old golden retriever was sick and had to be put down.  Recently they decided to adopt another, and so along came Jasper.   But just 4 days later he disappeared after chasing a rabbit while out for a walk.  He was on leash but managed to slip out of his collar and though the Harmsens tried to chase him it was to no avail, he was gone.
They did what people do, put up fliers, post ads online, search,  and pray.  As a snowstorm passed through the area they got even more concerned and worried that they would never see him again.  Meanwhile, one week and 25 miles later Jasper walked up to the door of Mike's Country Meats in Campbellsport. Mike and Lora Nitschke, who own the business and live in a home behind the store, found Jasper with the help of a snow plow driver, Dan Hornburg.
"A truck pulled in our driveway and told us there's a dog running around outside our home," Lora Nitschke said. "And, of course, us being the animal lovers we are, said 'oh you poor little thing' and brought him in the house.  We gave him water and he was so hungry, he was so tired he just laid down. He had a long trip." The Nitschke's called around to see if anyone knew they dog but ended up keeping him overnight as they had no idea who he belonged to.  The next day they called the Fond du Lac County Sheriff's Office and were told that a family was looking for the dog.
The Harmsens drove up immediately to claim their baby and were thrilled he was safe.  He did have infected paws and was extremely dehydrated but is expected to be fine.  He will also be enrolling in obedience classes as soon as possible.  "All's well that ends well," Mert Harmsen said. "We're just happy he's back."