Ohio resident Jutta Kulic was on her way to a Dog Show in Sacramento and was transporting Larry, a 2-year-old Italian greyhound, scheduled to board an Air Canada plane from San Francisco to his new forever home in British Columbia. However, Larry never made it to his destination since Air Canada lost the pet.
Larry belonged to Kulic's friend who recently passed away from cancer. Before passing, Kulic promised to find a new loving home for Larry and she did with Canadian resident Duncan White.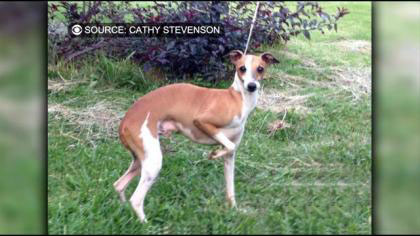 Kulic secured Larry in his crate and told Air Canada personnel not to take Larry out.
"I very clearly instructed them never ever to open the door and let the dog out of that crate, unless he's in a completely enclosed room," Kulic told CBS 13.
However the flight got canceled and Larry was re-scheduled to departure later that night. Since the dog would not have access to potty for a few hours, an Air Canada employee decided to take Larry out for a walk and that was when Larry escaped and got lost.
Since then Air Canada employees along other airport workers have been searching for Larry, but he is yet to be found.
Kathy Willman works at the airport and said that when an Air Canada cargo manager told her Larry ran across the street and into a parking lot near Highway 101, she knew she had to leave work and help capture the dog.
"I had like a meltdown," said Willman. "I told my boss I [had] to leave. I can't stay and work when I know there's a dog running around this place, because there's like big trucks, airplanes, and buses."
Air Canada admitted they were at fault for losing Larry, and when CBS 13 reached out to the airline asking about their set procedures when transporting animals, reporters received a surprising erroneous email meant for another Air Canada employee.
The sender was Air Canada spokesman Peter Fitzpatrick and this is what the email said:
"I think I would just ignore, it is local news doing a story on a lost dog. Their entire government is shut down and about to default and this is how the US media spends its time."
CBS 13, Kulic and White never expected this response.
"You look at their website and they say they take great care in shipping animals, and obviously it's not true," White said.
Later, another Air Canada spokesperson replied to CBS 13 apologizing for the delay in response and saying they had no answers but were investigating Larry's escape.
Larry is still missing and White hopes his dog is found and sent to his new forever home.
"I've got some hope that he's still around," said White. "The odds are pretty much against that now, but you know, miracles do happen."
If anyone in the area knows the whereabouts of Larry, or if anyone picked him up from the road, please contact authorities and lets help Larry reach his final loving destination.