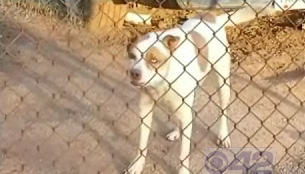 For the second night in a row, an Alabama dog named Kelly is facing freezing temperatures without shelter. "The owner leaves the dog out here in the cold and the wet and the rain with no protection and I'm scared the dog's going to freeze to death, especially in this cold weather," said neighbor Wayne Niedermeier.
Drew Alexander, an animal cruelty investigator with the Greater Birmingham Humane Society said, "It's not a healthy, safe environment for the animal and that's against the law. That's animal cruelty." Alexander filed a warrant against Kelly's owner Tuesday, but as the legal process grinds along, Kelly waits.
"What really bothers me about this is that I left a notice a month ago and apparently, it's just been ignored," said Alexander. Ignored, he says… And the dog – according to the neighbor – still neglected. "The dog has hung himself more than once on the BBQ grill. He'll get in there and get his chain caught up in the works of the BBQ grill and he will literally hang himself. And I've had to get a pair of bolt cutters and cut him loose," said Niedermeier.
Tonight, Kelly will brave the bitter cold alone again, but Niedermeier and Alexander are hoping that soon, they can change that.