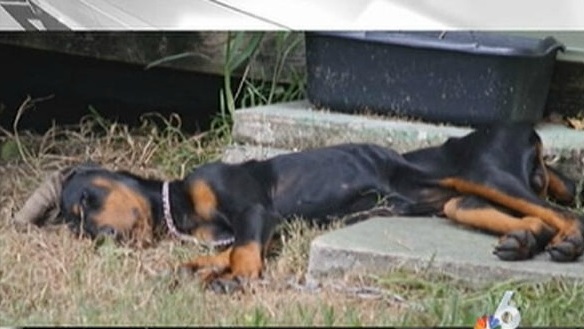 Dozens of animal lovers showed up at a Florida house in protest of the despicable condition of a starving two-month-old Doberman pinscher after the photo of her went viral.
People had reportedly seen the dog chained to a backyard shed for at least a week or two with no food or water. 100+ Abandoned Dogs of Everglades Florida shared the photo on their Facebook page and saw thousands of shares for the pup. Advocates assembled at the dog's Fort Lauderdale home in protest of its treatment.
"The first thing that went through my mind was that something had to be done," said Mary Hagopian, who was amongst the supporters.
Vet technician and dog owner Lori Rudock was able to see the Dobie up close from her friend's neighboring back fence.
"It came out with this big, heavy chain on … Total ribs," she said. "It was terrible."
Amy Roman of 100+ said everyone who arrived was there to help after they learned about how the dog, whose name is Duchess, was being kept.
"I said, 'please, let us take the dog. Do you need food? Let us take the dog, we'll bring it to the hospital. We're a rescue, we'll get it a home."

The response? "It's a dog; get off my f-ing property."
Fort Lauderdale police and a Broward County Animal Control "specialist" eventually showed up at owner D'Anthony Dontrel Davis' house to find Duchess untethered, and disappointed protesters by – as seems to be typical in Florida – not doing anything. Officers said the dog was thin, but did not appear to be in poor health, and displayed no signs of abuse or neglect. (A puppy (that was chained to a shed for weeks in the Florida heat) with rib and hip bones jutting out, along with dirty tape from recently cropped ears, and there is no abuse or neglect – REALLY??)
A vet visit for Duchess revealed that she could not gain weight because she had hookworm. (Couldn't have anything to do with leaving her outside all the time, could it?)
"I think we just didn't know that she had hookworm, so it's not our fault," said Sherene Marie Walker, Duchess' other owner.
Davis showed investigators a container of high-quality food and recent veterinary records, and said the whole thing was a "misunderstanding."
"I take care of my dog. I had dogs all my life. My parents taught me to take care of stuff I have… I wouldn't neglect the dog, because I think that's unfair to the dog," Davis said. (Did he forget her name?)
"She's a house dog. We had her outside because she had some discipline problems barking. She had plenty of food and water," he said, adding that she was fed three times a day.
A dog fed three times a day does not look emaciated. Loving, caring owners would have noticed that their pet was not gaining (or was losing) weight, despite being fed so often, and would have checked for parasites or other causes of malnutrition.
Davis and Walker were later arrested on unrelated charges, and the child and both dogs were removed from the property. Davis, who has previously been arrested for aggravated battery on a pregnant female and domestic battery by strangulation, was taken in for possession of Oxycodone, resisting arrest without violence, trespassing, and a violation of an injunction involving domestic violence.
Walker was charged with disorderly conduct, resisting without violence, aggravated child abuse, and contributing to the delinquency of a child.
The arrest affidavit states: "During the time conversing with the [Walker] she was holding her daughter under one year old. She advised she did not know where the whereabouts of Davis."
When asked by police if they could check inside the house for Davis, Walker became "defensive," and "physically blocked our passage to the hallway. She took a defensive stance and pushed [an officer], all the time while holding her child in her left arm, the child now crying. Davis was inside bedroom in contradiction of Walker's statements. Davis was taken into custody after a slight struggle."
The following videos (taken by Roman) contain some harsh language.
Information accompanying the video:
"Tethered with No Shelter.. No Food No Water. Dutchess is now Back with these people. How does this make you feel? Blame it on the Law.. Animals are considered property in the State of Florida. Our own police officers have No idea that they have the right by law to remove any animal that appears to be suffering. The officers are the ones that must be focused on for leaving Dutchess in this situation. please contact The head of the department ask her why the officers called to this scene were not aware they could remove Dutchess. Her name is Crystal Brignoni – contact # is 954-828-5700 let them know there is a law in place that allows the officers to remove any animal that appears to be suffering. Maybe if it was properly handled Dutchess would not be back with the owners. Carol and Amy over 2 yrs ago fought for a dog named princess who was tethered for over 100 hours. Since then the law was changed. Just confirmed with Susan Pierce head of Animal care and adoption in Broward. So why did these 2 officers leave Dutchess? Why when we asked them to remove her they stated they do not have the authority to do so? The police officers did not even know about the tethering Law. It is our system.. Costing innocent animals their life. Now after us investigating we found 3 outstanding warrants for his arrest. Also She too was arrested an the baby was taken away. Both Dogs are in the custody of Broward Animal care and adoption. We will continue our fight for Dutchess! Amy & the 100+ Team!"
Thank you, Amy Roman, for your outstanding dedication to stopping animal abuse!