A North Carolina animal control officer went above and beyond her duty recently when she paid the vet bills for a little dog who was badly burned by a man who set her on fire.  He is now being held on $250,000 bail, and she is receiving lots of love and care.
Cocoa, a seven-month-old Chihuahua-terrier mix, has an entire community rallying for her after she was severely burned.  Dominique Daniel Clark had been receiving angry text messages from ex-boyfriend James Franklin Quick.  She had let Cocoa out to run around, and later heard her crying and scratching at the door.
When Clark's son opened the door, he saw Cocoa in flames.  Clark acted fast and put her out with her clothes.  She was taken to Animal Urgent Care, where she was treated for the burns on her face, belly, and legs.
Clark didn't have enough money to pay the bill.  But Cumberland County Animal Control Lieutenant Elaine Smith was devastated for the family, and put the $1,000 bill on her credit card.
"It pulled at my heartstrings, and I'm very blessed that I'm in a position that I could help out," she explained.
Quick was arrested on felony charges of animal cruelty and burning personal property.  Bond was set at $40,000, but District Court Judge Lou Olivera agreed to raise it at Assistant District Attorney Andre Hogan's request.
The abuser showed absolutely no remorse in court, even threatening to kill any witnesses, and bellyached at the bail amount, which he is unable to make.
"I don't care about the dog," he scoffed.  "This over a dog?"
The 23-year-old says he has been in prison for most of his life since he was 15.  He is also facing charges in unrelated cases of arson, larceny, and firing a gun within city limits, so it is likely that he will be behind bars again for a considerable amount of time.
Clark is satisfied with the outcome of the hearing.  She and her eight-year-old son will have to move, but she isn't too displeased, "so long as my son is safe."
Cocoa is being treated and will be recuperating at Cape Fear Animal Hospital.
"She is being kept comfortable and is doing well, but she has a long road to recovery," Smith said.
However, Doctor Sarah Morgan has recommended that Cocoa be transferred to a 24-hour care facility, which will cost upwards of $9,000.
The county is now collecting donations to help cover the cost of Cocoa's care, which can be made through AC's Injured Animal and Stabilization Fund or by calling 910-321-6843.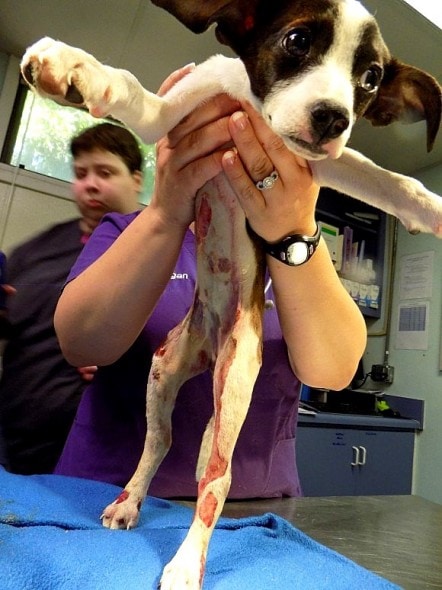 …..