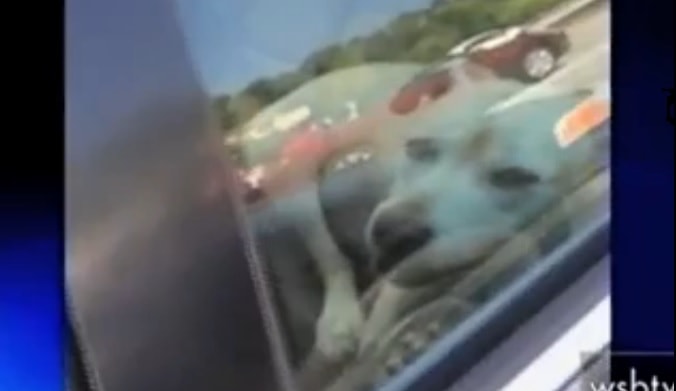 The Roswell, Georgia Police Department was forced to break into a car that had a dog trapped inside.  No windows were left open, and the obviously overheating dog was found panting and barely able to move from the heat.  After the rescue, the police department posted a video of the dog and the rescue, hoping to raise awareness and send a warning to others that would do this.
The temperature outside on the day in question was around 95 degrees, putting in temperature inside the car well over 110 degrees.  This is way beyond hot enough to cause all sorts of health problems for the poor dog trapped inside.
Eyewitnesses to the rescue were saying that the police were saying the temperature in the car was around 150 degrees.  They were unable to locate the owner of the car in what they thought was a reasonable timeframe.  It was decided to break in and rescue the senior dog.
A garden hose provided some much needed water for the dog after he was removed from the car.  After cooling off a bit, and getting a good drink of water, the dog started to come around.  There is no suspected permanent damage done to the dog's health.  It is believed that he will be just fine.
The owner of the vehicle was eventually located.  They were handed an appearance ticket for charges of animal cruelty.  The police department posted a video of the rescue to their Facebook page.  They want to drive home the point that leaving a dog in a hot car is dangerous, no matter the circumstances.  They are urging people to call 911 if they come across a similar situation.