Leo Grillo used to believe that he could get people to stop abandoning their unwanted pets near the deserts of southern California, but he can't. Instead, he has created an animal sanctuary that has saved the lives of over 1,500 critters.
The actor's inspiration to do so came after he saved his first emaciated Doberman-Labrador mix named Delta in the Angeles National Forest almost 35 years ago. A year later while on a walk, he and Delta stumbled upon a group of three dozen abandoned dogs. Grillo started traveling along the same stretch of highway, looking for more dumped pets.
"It sucks the life out of me," he said. "It's very, very painful."
He vowed to do whatever he could to bring these animals back to health, and thus was born the DELTA Rescue – Dedication & Everlasting Love to Animals. Today it houses 1,500 cats, dogs and horses, and is the biggest no-kill facility in the country.
Founded in 1979, the 115-acre sanctuary has a yearly budget of $8 million and employs 50 people. A hospital, full-time vet and private fire department with three fire trucks are on the property to make sure that any animal's needs are met immediately. He even has a tanker with fire retardant.
"With one fill, one piece of equipment can spray the entire property down, including 50 pine trees, and nothing will burn," he said.
Dr. Gaylord Brown was introduced to Grillo in 1985 when he brought in a dog that had been struck by a car. He was intrigued by Grillo's response to being told the cost of treatment.
"I was shocked by his readiness to say `Go ahead, go ahead.' I remember telling my staff at the time, `I don't know how much longer this guy will be around because he is spending all his rescue money on one animal,'" Brown said.
Grillo told Brown to worry about the animals and to leave the money worries to him. He had become a whiz at getting direct mail donations, never imagining how obsolete mail would soon become.
"Look at the hole I've dug. We are in the last generation of direct mail respondents," he said.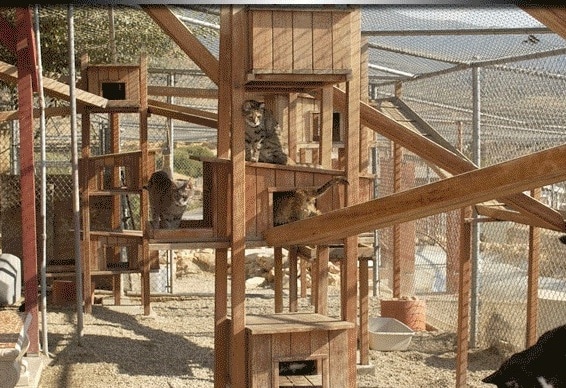 He is embracing the age of technology and incorporating electronic fundraising into his methods for sustaining life on the ranch. Housing is provided for everyone, with simple straw-baled homes Grillo constructs for the dogs. Using bales of rice straw, plywood and stucco, houses can be created that easily last the life of the dog. They are also given pools to keep the heat from getting to them. The cats have indoor/outdoor condos.

A full-time vet was needed to help the sanctuary's aging population, so Brown was coaxed into leaving his private practice to work at a hospital could help build. Twenty-five years later and the hospital is state-of-the-art, boasting a surgical ward, an in-house lab and a camera able to zoom and pan, so specialists in other parts of the country can help with consultations. Most of the patients in the hospital are senior pets with arthritis, heart conditions, kidney and liver problems, and cancer. Though it is a no-kill sanctuary, some animals must be put to sleep to end suffering.
"If they have intractable pain, don't interact with their caregivers or stop eating, we will help them to the other side in a gentle manner. But we don't put animals to sleep just because they are diagnosed with cancer or have difficulty rising," Brown said.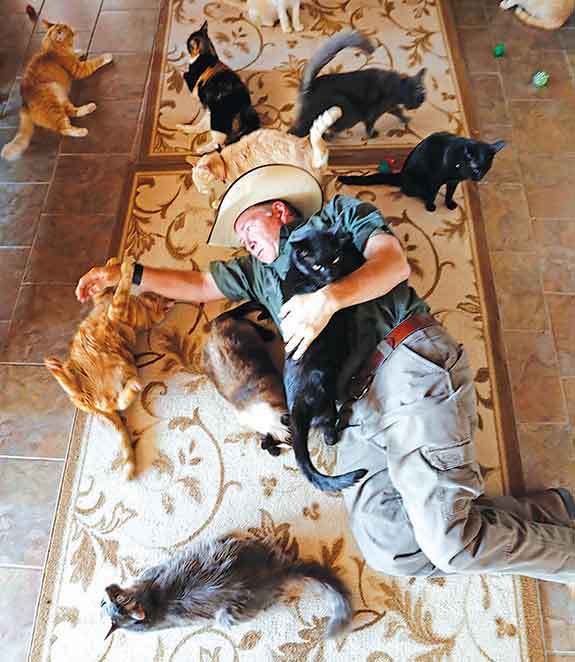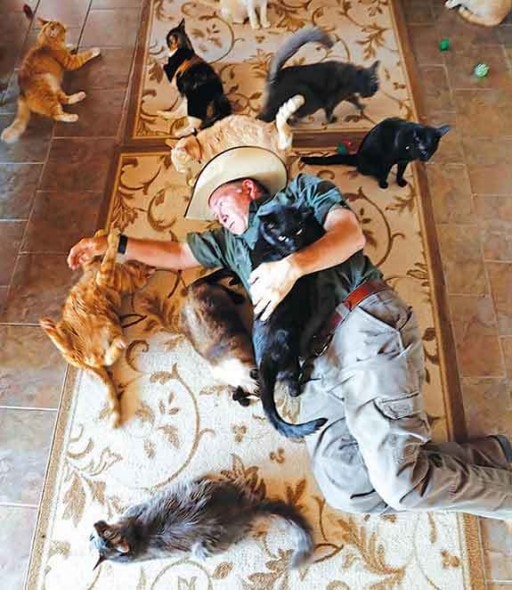 The sanctuary is not a rescue group. It does not adopt out animals and does not take them in from people or other groups, only abandoned pets and ones found by Grillo, who still scours the area for animals in need of a home.
"I'd rather not be a hero, adopting out our animals and STEALING homes away from animals in the pound – wonderful animals who will be killed only because they can't find new homes," Grillo explained.
Some, including Grillo himself, might say his dedication borders obsession, which is evident by the title of his documentary, "The Rescuer, A Story of Obsession."
His passion has even earned him a nod from the American Institute of Philanthropy CharityWatch, which considers the sanctuary one of the very best in the country.
"Animals are people to me," Grillo said. "And as such, we will not condone the disposing of pets any more than the disposing of children."
To donate to DELTA, please visit here. Their Facebook page can be followed by clicking here.