When a dog was stolen from a North Carolina home during a break-in, no one could imagine anything good coming from such a tragedy. But a chain of good deeds followed, including the return of the missing Yorkie named Sophie.  
When Elizabeth Newman's dog Sophie was abducted during a home invasion, she began posting fliers around the Durham neighborhood in hopes that someone would see her. Sixth-grader Ronald Leathers approached her while she hung the 'lost dog' notices – he had seen Sophie. He led her to the home of a family who said they had recently purchased the dog.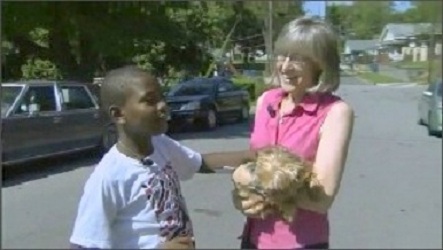 Elizabeth was so happy to get her Sophie back that she rewarded Ronald with $500. She accidentally left her credit card in the envelope of cash. With no hesitation, Ronald, who recently lost his father, gave the card back to Elizabeth. His mother was proud.
"I know his dad would be proud, too," she said, wishing that he could have been there to see what transpired.
Police don't know who stole Sophie and sold her to the Pemberton family, who was unaware of the dog's origin. Maggie Pemberton said she paid $200 to a stranger for the adorable dog. Saddened as she was to have to part with her new friend, Maggie willingly gave the dog back to her rightful human.
Maggie's six-year-old was devastated at having to return Sophie. But an anonymous someone found out about the sad little girl, and donated a Yorkie-Poo to her.