Buster, is a Staffordshire Bull Terrier that almost starved to death, but thankfully, he was saved over the weekend when an animal lover from Ramsgate, England, found him near Dame Janet Primary Academy. The Good Samaritan took the dog home and cared for the animal over night, until the pet could be seen by a veterinarian the following day.
On January 3, 2015, the stray dog was taken to a vet clinic were professionals determined the malnourished dog endured neglect for months. That is the only way he could have lost so much weight. Thankfully, the staffie found help in the nick of time and he is expected to fully recover.
Thanet Animal Group (TAG) Pet Rescue welcomed the emaciated dog into their program and will be looking after him until the pet is ready for adoption.
Rescuers hope Buster's abusers get apprehended and pay for the neglect and mistreatment he suffered. TAG representatives ask anyone with information to come forward to identify the criminals.
"If anyone recognizes the poor boy please let us know as we will be involving the RSPCA," said TAG.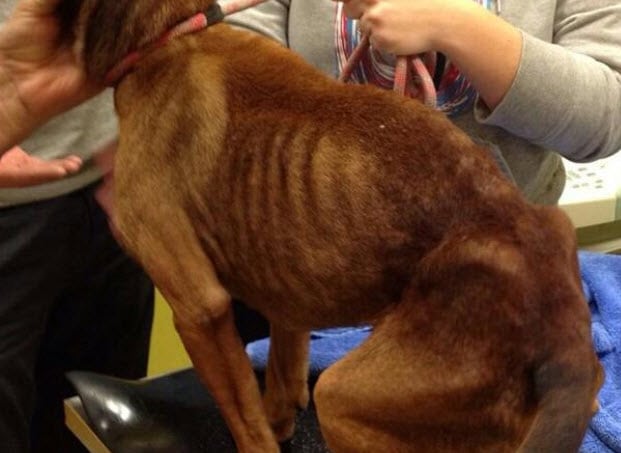 Busters has spent three days under veterinary care and he is showing signs of hope.
"[He is} eating well and did his first number two in the garden today so organs seem to be functioning well," posted TAG on their Facebook page. "Busty needs wooly doggy coats to keep him warm. We would appreciate it if anyone can please donate one or two."
To learn more about Buster and to follow his recovery, follow TAG on Facebook.