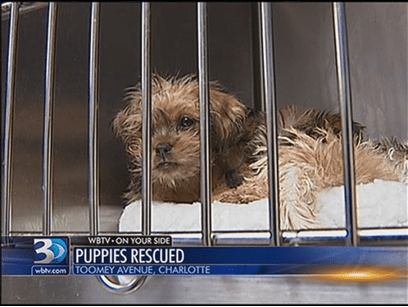 160 dogs have been rescued from a puppy mill in Brunswick County, NC. After an anonymous tip, the Sheriff's department teamed up with the SPCA and the Humane Society, to conduct the raid and rescue the animals. "Personally I've never seen anything quite like this," Sheriff John Ingram said. "The inside of the residences and behind the residence are some of the worst conditions I've ever experienced on anything I've ever been on."
It is reported that the animals were packed into cages where they had no human contact, hardly any food or water, and were laying in their own waste. The animals were seized, where they have been taken to numerous different shelters. The owners of the property have been arrested, and face multiple counts of animal cruelty charges.
All the dogs are small breeds, such as pugs, terriers, and poodles, and the majority of them are terrified of people. All the dogs are being treated for their physical injuries, but their emotional injuries will take longer to heal. Some of the dogs are being placed with fosterers until they are fully socialized and ready to be rehomed.