An Army Ranger haunted by his past says a four legged hero has come to his rescue in the fight against post traumatic stress.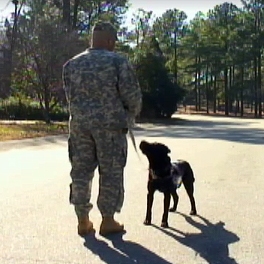 For our military men and women returning home from war, the transition from the front line to their front door can be overwhelming. Post traumatic stress disorder effects thousands of our troops, causing flashbacks, nightmares, and extreme anxiety.
After 25 years of service, 1st Sgt. Will Roberts has seen the worst of what war can offer. He says forgetting it is impossible. "It's like a ghost. You can't see it. You can't hear it. But it freaking consumes you."
That anxiety consumed Roberts to the point that he avoided leaving his home. Aside from attending work, his days were spent in solitude behind locked doors and drawn curtains. He was fighting the toughest battle of his life, and doing so alone.
Sgt. Roberts says his new partner in the fight against PTSD has helped him to overcome many of these mental hurdles. That partner is a service dog named R.C., provided by Palmetto Animal Assistance Life Services. Specialized training makes R.C. a four-legged safety net for his partner while the two are out in public.
Roberts says just the comfort of knowing that he has that support is a massive relief after years spent living in fear.  He takes R.C. everywhere he goes, and credits the dog for saving his life. He offers praise for the dog who saved him, and is understandably enthusiastic about PAALS and the lifesaving service they provide.
"I want the public to know about PAALS and service dogs. And what they can do for paratroopers coming back from less than ideal circumstances," said Roberts.
If you would like to learn more about PAALS or donate to their program, visit their website.